Vall d'Ebo s(u)

This little climb is a scenic jewel on the Costa Blanca. I think there may be others like this in the vicinity. But my route continues north along the coast. Just thinking in terms of pavement, this is really just a shoulder point for Alto de Tollos or alternatively a shoulder summit on Cv700. But if you include a short additional canyon access track I can come up with the minimum elevation difference to make this a separate page.

I have used the pictures of panoramio and flickr contributors, as well as other web sites to illustrate this page. There are copyright notices and links to all original pictures. My own pictures were on a computer, that was stolen at the train station Frankfurt Airport (model Acer Aspire One (serial# NUSGPAA01625101C947600F)

1.(00.0km,370m) START-END NORTH-ALT: low point on secondary road on Riu Girona
2.(02.0km,400m)START-END NORTH: town: Vall d'Ebo
3.(05.4km,540m)TOP
4.(14.6km,070m)START-END EAST: Pego
5.(24.5km,020m)START-END EAST ALT: Oliva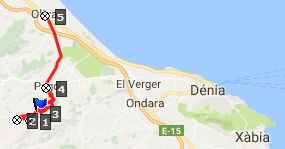 Approaches

From North. This is a really small climb on this side. In order to get the minumum elevation gain, so that I can include it as a summit point, I had to go down below the town of Vall d'Ebo on a sidetrack to a point where neither trail nor road can follow the Riu Girona through its canyon. For a roadbike the logical starting point is point 2 the town Vall d'Ebo.

I spend the night there on my tour in a private quiet spacious private room. The only problem is the grocery store. There is one, but nobody knows when or if it will open today - definitely not before 7pm. So I buy some vegetables from the local bar.

The next morning I leave this quiet town in its gentle carst valley and do the short climb to the summit. Surprisingly I see 50 to a 100 cyclists coming the other way.

From South (described downwards). The reason for this popularity soon becomes apparent. It's the scenery and the wild curvy road. Some rain during the night washed all the haze out of the air, and the pictures I took I now miss sorely. The descend through the small limestone canyon is made more beautiful by the ultra blue sea behind it. There are several ways to complete the journey down to the coast. On my option, through the town of Pego, I see more cyclists than I have met on the entire tour sofar. They seem to be all male. Maybe their wives are at the beach, and maybe this arrangement of a beach-wife and a cycling-husband is what makes this location so popular - no idea - just a guess. For me it's the scenery.


Copyright: www.lavalldebo.org/
A Day on a Tour with this point as highest summit:

( < Portell de Cati s(u), Alto de Tollos s(u) | Via Verde Ojos Negros s(u) > )
Vall de Ebo s(u): Vall de Ebo > Vall de Ebo s(u) > Pego > Oliva > on various bike trails and secondary roads following coast > Gandia > Cullera.
Notes: gps data is on stolen computer. Before the next summit ride over Cuesta de Ragudo and the Via Verde Ojos Negros I spend several days on out and back rides into Vallencia.

cLiCk on image , arrows , or thumbnails to advance slideshow