Portell de Cati

On aerial maps of Petrer an enourmos block of a mountain appars behind it and its castle: the Serra de Maigmo. This remote little road curves over a shoulder of this block of a mountain. The racing graffiti on this road is evidence that the very steep northern side is a popular bike race.

I have used the pictures of panoramio and flickr contributors, as well as other web sites to illustrate this page. There are copyright notices and links to all original pictures. My own pictures were on a computer, that was stolen at the train station Frankfurt Airport (model Acer Aspire One (serial# NUSGPAA01625101C947600F)

1.(00.0km,0320m)START-END SOUTH: low point, about a km east of Monover
2.(08.8km,0450m)start of carretera Petrer-Castella, at jct with A31
3.(19.9km,0900m)lower jct to Hotel Xorret de Cati
4.(21.9km,1100m)TOP: Portell de Cati
5.(31.5km,0650m)START-END NORTH: Castalla, north end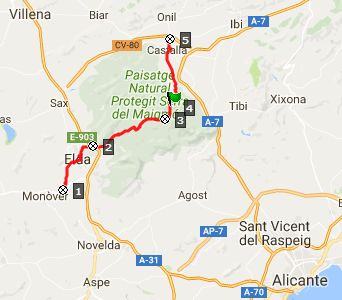 Approaches

From South. The road between points 1 and 2 is a busy main road between the towns of Monover and Petrer. From this vantage point the route ahead looks like it could be a mountaineering route.

But before I can ride the road I have to find it. Asking people in Petrer also was of little use. They all wanted to send me over the larger CV80, bypassing all the interesting stuff for a cyclist. Even with a gps finding the route finding was challenging. The point that I had missed, was that I had to go back over on the north side of A31 to find the start of this little road. On a map without enough detail that statement is completely illogical

The road starts to traverse up a dry valley. Below are the houses of Petrer with its maze of backyards. The castle sits like a crown above all. I take many pictures of the backstreet chaos, contrasting with the old symbol of power and authority above it. The contrast is what makes this scene interesting. Unfortunately all my pictures are on a stolen computer. There are plenty of photos of the castle on websites. But all I've seen have a very sanitized look, that misses out on the garbage and lived in feeling, which to me makes this scene really interesting.

The road retreats in a forested valley, and climbs over many miniscule waves in the landscape, passing a remote farm. The goal, for most people who travel this road is the Xorret de Cati - a hotel of sorts, it really looks more like a mountain spa, complete with trailheads, additional roads climbing the slopes of Serra de Maigmo, huts in the forest, and a nice sculpture of a climbing cyclist. I also take several photos of it, virtually identical to ones that I found on the web. During my visit the hotel is closed - a ghost hotel without any sign of life. The road surface improves at the junction with another wider road, that climbs up from the Petrer side.

Now the road makes a 90 degree turn to the north and climbs steeply to a well defined pass. The Serra de Maigmo and other surrounding ranges appear framed by forest. The top is in the trees and the road is covered with chalk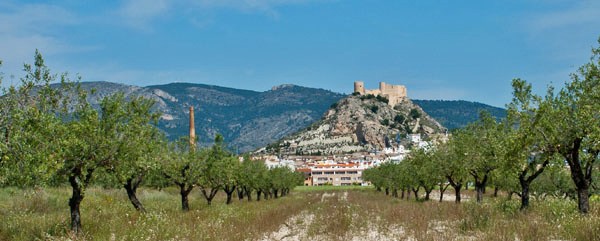 Copyright: Flickr Contributor: Wayne Paradise piclink

From South. (described downwards). The many pounds of chalk on the road on this side speak of many an exciting and exhausting race finish at this point, and looking at the profile you can see why. This is a very steep slope up from Castella. The brake pads on my fully loaded touring bike are working at their temperature limit. The views down to the valley on the west is of gentle rounded hills with relatively modern appearing villages spreading out over the valley bottoms, a more modern picture of Spain than I have seen so far.

At the end of this profile another great image waits for me; the castle in Castalla. The main road down from the summit seems to head directly for it in a straight line, and I take several pictures of it with cyclists in the foreground. The linked pictures of a similar scene, I think are taken a little to the south of the profiled route, and have different foregrounds, and probably better light conditions than I experienced. The profile ends at a low point in this bowl like valley. In order to get to lower valleys you have to climb over additional summit points.

A Dayride with this point as highest summit:

COMPLETELY PAVED:

( < Puerto de Cabezo de la Plata | Cv801 Ibi - Alcoi , Vall de Ebo s(u) > )
Portell de Cati , Collado Algueda : Albatera > Collado de Algueda > Hondon de los Frailes > el Fondo de Les Neus > Novelda > Cv835 north > Monover > Elda > Petrer > Xorret de Cati > Portell de Cati > Castalla > Ornil: (16.4,5).
Notes: gps data is on a stolen computer. Good quiet, clean, friendly and generally great and cheap overnight accomodations at a gas station hotel, just outside of Ornil.

cLiCk on image , arrows , or thumbnails to advance slideshow