Tour Madeloc, Route des Cretes
(including one way summit to Tour Madeloc)

This is a narrow paved track of steep and spectacular switchbacks, directly where the Pyrenees meet the Mediterranean Sea. There is no higher summit closer to this coast line. From up here all that new condo architecture enveloping the villages around small harbors become one visually exciting bee hive of activity. Down there is traffic without end, and up here you can only hear the wind, and yourself breathe if you ride hard enough.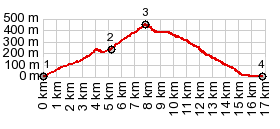 1.(00.0km,010m)START-END WEST: port in Port Vendres
2.(05.6km,231m)Col de Mollo
3.(08.3km,450m)TOP: Tour Madeloc - Route de Cretes s(u)
4.(16.8km,000m)START-END EAST: Banyuls sur Mer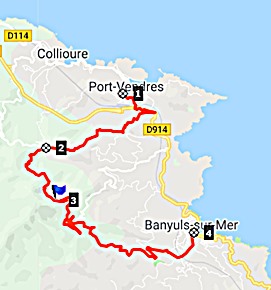 Approaches

From North. There are three different ways to reach point 2: Colle Mollo. The profile chooses the option of following the coastal road out of Port Vendres. At a point close where the coastal road reaches a first high point, a narrow paved track takes off into the vineyards. It is signed "Route de Vinigraires". The tower can be seen high above, and a variety of zig zag paths can be discerned leading up to it, cutting straight across the green hills

I encountered many bicycles on this route, some mountain, some racing. I was the only one with full saddle bags. This route crosses its own shoulder summit point, and then a short traverse nearly on top of a short ridge leads down to Colle Molle. Four roads cross here.

For a short time the route to the tower is slightly wider than before, and you meet a car now and then. But it is still narrow enough, that I always stopped to let it pass. Past some decommissioned military buildings, the road is held in place by a rock wall. This marks a short exposed section. Immediately after that the road reaches the highest point on the two way summit.

Slideshow of the Route de Cretes two way summit
cLiCk on image , arrows , or thumbnails to advance slideshow

From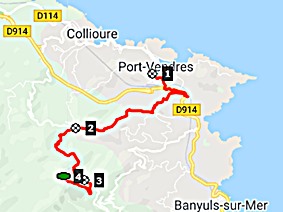 South. (described downwards) The switchbacks stack up on top of Banyuls sur Mer like a set of steps. A few trees add to the landscape on this side. When entering town, for a short time road conditions improve, and the road width increases. Then the surface becomes very rough for the last part.


Sidetrip to the Tour Madeloc one way summit: This sidetrip would seem to appear mandatory on a first ride here, no matter what the conditions are, within reason. In my case it was so windy that I walked most of the way up. It is pretty steep too. But you never know - I might have been able to ride it in pleasant sunshine and without wind. The last steep switchbacks are the most spectacular part of this journey. From the top you can make out the next tower in the system to the west, behind that a small glimpse of the first high snow covered peak of the Eastern Pyrenees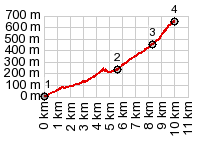 1.(00.0km,010m)START-END WEST: port in Port Vendres
2.(05.6km,231m)Col de Mollo
3.(08.3km,450m)Tour Madeloc - Route de Cretes s(u)
4.(10.0km,670m)TOP: Tour de Madeloc(ow)


Slideshow of out and back climb to the one way summit


cLiCk on image , arrows , or thumbnails to advance slideshow


Dayride with this point as highest summit

COMPLETELY PAVED:

( < Col de Pennes | Colle Mollo > )

Tour de Madeloc, Route de Cretes, addtional out and back: just south of Ine > sidetracks west > D81 south > Argeles-Plage > Collioure > Port Vendres > up Route Vinegraires > Col de Mollo(shp) <> out and back a little past summit of D86 towards Ermitage ND de Consolation > Tour Madeloc, Route des Cretes <> out and back to one way summit Tour Madeloc >> down Route des Cretes > Banyuls s Mer <> out and back on Route de Cebere (Rte9) south to next high point, Cap l'Abeille >> Rte de Cebere north > Port Vendre > Collioure > Argeles sur Mer > D114 and other north east <> out and back to sight see Ine > back to starting point south of Ine: 52.8miles 6218ft 8.6mph 6:10hrs (garmin etrex30 r5:19.5.4).
Notes: another day of extremely strong north wind, that made even walking at the summit difficult