Col de Pennes

I saw more cyclists on this little pass loop from Die, than any of the other rides in the area, including some that have arguably more spectacular scenery. But this little narrow road has a lot going for it, including peace and quiet and getting a good climbing workout.


1.(00.0km,0300m)START-END WEST:bridge across La Drome, in Vercheny
2.(11.6km,0440m)profile goes left off D135 and climbs hill on D505a
3.(18.8km,1040m)Col de Pennes
4.(29.8km,0490m)proifle joins D93 and goes left downhill
5.(34.0km,0450m)START-END EAST:Pont de Cart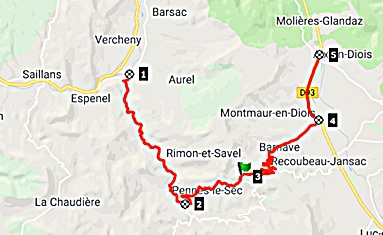 Approaches

From West. I did this loop in a way that is easy on the breakshoes, and that means climbing on this side. When coming from direction Die, a small road parallels the highway, but on the opposite side of the river. In many ways that river ride is just as enjoyable as this pass ride, and we haven't even gotten to the start of the profile yet.

The profie starts in Verchent, where there is also a bridge across the river. The road follows a narrow valley, sometimes through tunnels, sometimes under alcoves to an old village, draped over a low ridge along the river, Benoit en Diois, The turnoff to Col de Pennes follows a few km later, and it can be quite a shock to the system - steep - narrow -winding. The surrounding hills take their place as green oval shapes in the larger view of the landscape. The top of the pass is still below treeline





left: rolling down the east side towards valley of the Drome







below left: Benoit en Diois

below right: first part of climb after point 2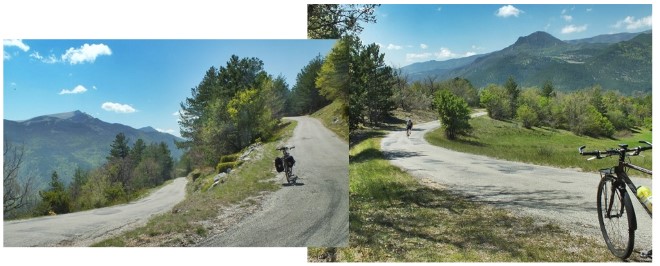 above both: approaching summit

left: descending to Barnave












---






From East. (described downwards) The views of snow covered peaks to the north are broken into fragments by a dense canopy of trees. Actually the best views I found, are partly down on this side, following an unpaved turnoff for a 100m or so. Some of the pictures are taken there. At the foot of the mountains lies another picturesque village to be rolled through: Barnave.


cLiCk on image , arrows , or thumbnails to advance slideshow


Dayride with this point as highest summit:

COMPLETELY PAVED:

( < Col de Menee | Tour Madeloc s(u) > )

Col de Pennes: Die > Pontaix > St Benoit in Diois > Col de Pennes > Barnave > Quant > back to starting point in Die: 37.7miles with 2855ft of climbing in 3:56hrs (garmin etrex30 r5:19.5.1)