Col de Mollo s(u)

I have been told Mollo means "slowly" or "softly", and it refers to the way you have to negotiate this route in any sort of vehicle with wheels on it, weather it is a car, a bicycle or a wheel barrel. In my case the Mistral was blowing so hard I had to hang on to the bicycle, at one point like a flagpole to a flag. Good thing I was walking already.

This is really just a shoulder point on the route to the Tour Madeloc summit. Also, some maps label this Colle (hill) de Mollo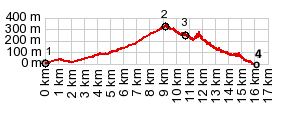 1.(00.0km,010m)START-END WEST:D114 south of Collioure
2.(09.3km,330m)TOP: Col de Mollo s(u)
3.(10.7km,231m)Col de Mollo
4.(16.2km,00m)START-END EAST:Banyuls sur Mer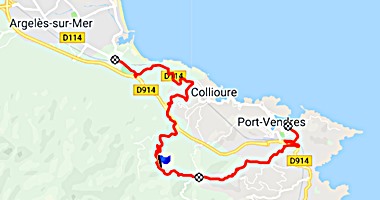 Approaches

From North. Following the coastal route south to Port Vendres, one of the many roundabout signs points the way up Colle Mollo. After the initial climb the village houses end and an increasingly narrow road contours up through the vineyards. There are great views north over the plains, and west over the sea, and down to Port Vendres. The real summit is quite a bit higher than the spot marked as Colle Mollo (in a relative sort of way). A total of four roads meet at Colle Mollo itself, and all of them cross a point that is somewhat higher than Colle Mollo itself.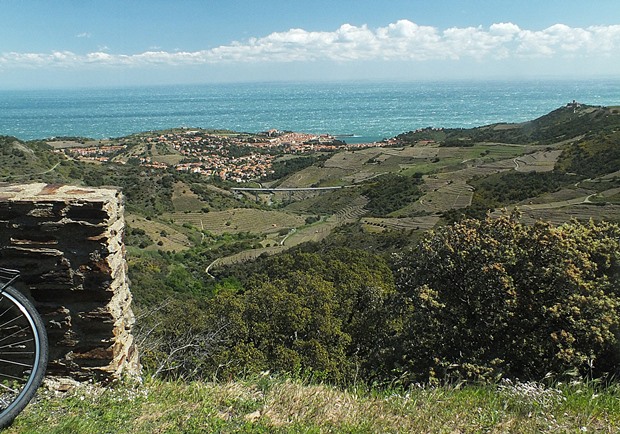 From South. (descirbed downwards). From Colle Mollo you can start climbing again to Tour Madeloc s(u), or take a left and go downhill back to the coast, as the profile does.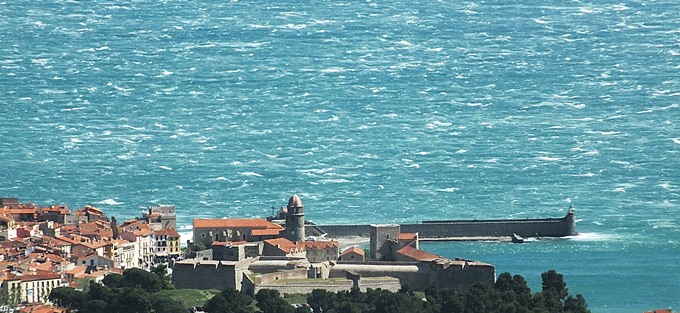 Dayride with this point as highest summit:

COMPLETELY PAVED: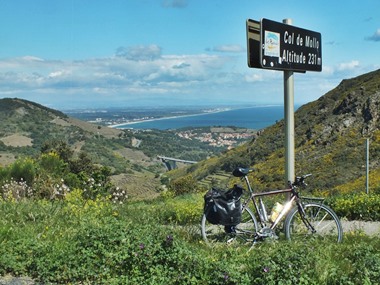 ( < Tour de Madeloc s(u) | Col de Palomeres > )

Colle Mollo s(u): just south of Ine > D114 and others west > D86 south > Colle Mollo s(u) > Route Vinigraires downhill > Port Vendre > Coullioure > Argeles sur Mer with sightseeing detours > back to starting point south of Ine: 28.8miles with 4645ft of climbing in 3:30hrs
Notes: a much longer ride was planned, but this was the windiest conditions I ever encountered on a bicycle anywhere. I walked down part of the Route de Vinigraires part.