Col du Savel


For most people Col du Savel is just a shoulder point on the way to Col de Turini, or any of the other passes along the way. But combined with a short unpaved section, this pass becomes the highest point on a route, that can be used to connect two of my favorite medieval hilltowns on the coast: Luceram and Coroaze. Choosing strictly increasing approaches, like the profile below does, Luceram is a few km off the route.



1.(140m,00.0km) START-END SOUTH - 1: jct D2204 - D15, north of Drap. Profile goes up D2204
2.(419m,06.2km) Col de Nice
3.(548m,12.4km) profile turns hard left onto small road
4.(650m,14.8km) route reaches the top of the first ridge, and meets with another route, shown on the map from l'Escarene
5.(974m,18.9km) TOP: Col du Savel
6.(611m,29.9km) turnoff to Coraoze
7.(140m.42.8km) START-END SOUTH - 2: jct D2204 - D15 (same as point 1), profile comes down D15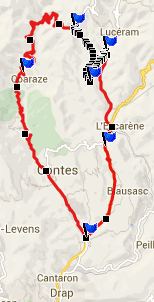 Approaches

From East. The profile starts in Drap and follows the busy road up over Col de Nice to L'Escarene. North of here traffic is no longer an issue, and a pleasant road makes its way through dense forest up into the mountains.

Immediately after crossing the river Le Paillon - a narrow road signed "Chemin des Mounts" turns back into a south easterly direction. A narrow smoothly paved path traverses up the hillside, passing many houses that try to make the narrow usable space between mountain and drop off into a living space. The road quickly reaches a top of a slanted ridge and turns back into a northerly direction. From here Luceram appears in the distance. The previously crossed bridge over Le Paillon is in the foreground
The view on the other side of the ridge is over a much drier drainage - a few badland outcrops and white washed houses, speckled over the bare hillside. The route ahead soon appears like white yarn rolled out over an undulating green carpet. The path turns into a concrete ribbon the width of a walkway, threading together a few spaced out houses. When Col du Savel comes into sight, the road turns to dirt and steeply winds to the top with a few short switchbacks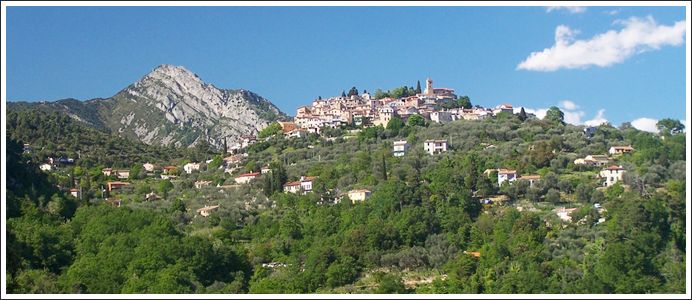 Coroaze from paved, lower western approach (telephoto view)

From West. (described downwards) I still think this upper portion of Col du Savel, is the most attractive part of the climb to Col de Turini, at least on this particular approach option. Across the hillside the road uses a few precarious walled in switchbacks to negotiate its way down the mountain side. Below that: more switchbacks - but the road appears much smaller, proof that this part of the road is really much further away.

Between here and Coroaze are also a few small climbs. This town looks more impressive after you have passed it. The cemetery has the best view in town. The lower part of this road has many precarious blind turns that require great caution, at least downhill and especially at the end of a long tiring day. When these tight turns end, the traffic starts up and the road approaches Drap

A Dayride with this point as intermediate summit is on page Col de l'Orme s(u)