Pla de Salinas s(u)

This road leads high into the sweeping "palouse" above Puigcerda. Palouse translates to "lawn", but I think "tundra" is the better fitting definition here. One approach to the plateau is paved and it also includes the Col de Pradeilles. From there a narrow paved spur leads another 400m higher onto a set of rounded mountains, covered by a single extensive.sprawling green carpet From here the profile finds a mountain bike route down the other side. There are several possibilities for this. The one shown, I did on my touring bike, electing to hike a good part of it. With a mountain bike - no problem.


1.(00.0km,1140mm) START-END NORTH: low point on river Segre,just west pf Puigcerda
2.(03.7km,1250m)Osseja
3.(10.2km,1650m)start of loop over Col des Pradeilles
4.(19.5km,1750m)Col des Pradeilles
5.(23.3km.2210m)TOP:end of Platea de Salinas paved out and back road
6.(25.0km,2000m)Col de la Creu de Means
7.(28.4km,1946m)Col de Marcer
8.(39.5km,1200m)dirt road ends in Queizane
9.(41.3km,1120m)START-END SOUTH: turnoff to Quizane from N152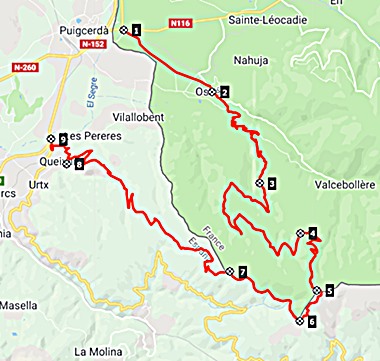 Approaches

From North. In Bourg Madame an unconspicuous road, consisting of patches of pavement, is signed simply "route forestiere". Few if any signs point the way to this junction. The road starts climbing in switchbacks above the town. In my case, the first views of the valley below tell me that I picked "the right" road.


The views keep improving, now taking in also a rugged ridge to the west - when finally the bumpy little road enters the forest. A junction marks the beginning of a loop from here, whose high point is Col de Pradeillles. The sign indicates that the recommended direction for this loop is to take a right here. The profile follows this recommendations, and the road descends just ever so slightly. But the disappointment does not last long, as the road resumes climbing again with renewed vigor. This time it climbs in the forest.


After a good workout the road reaches Col de Pradeilles. This is the opposite of Stelvio Pass, or any of the other famous roads with a circus of businesses at the top. There is nobody here trying to sell you cycling jerseys. There is no hotel, no bar, not even a bank. A rustic ever so carefully placed bench marks the high spot, and invites for a picnic lunch with a breath taking view. The pass sign itself is on the other side of the road, nailed to a tree. The pass is located is a meadow just below tree line.


Just a few meters after the pass, a right turn off the loop road gets you onto a paved out and back to the Pla de Salinas Summit. The road climbs above treeline and a few wisely placed turns help climb onto a gentle tundra slope. The trees just at treeline are extremely contorted and imaginatively shaped, as is often the case.


The paved road ends at a dirt parking lot just at the Spanish border, which is entirely deserted when I arrive here.





From South. (described downwards) An unpaved track continues on the gentle sweeping plateau or mountain (I can't decide which one it is) to the north. The profile follows this for about a 100 meters, then crosses a fence (the French - Spanish border) and picks up faint vehicle tracks heading in a southerly direction. A view of more heavily used tracks below help make the choice of following these barely visible tracks, easier.


But - bad news: the descend becomes very rocky and steep, very much an ATV track, but only for a short time. Climbing this short section would take a lot of energy. Then the track again is easily ridable on the "palouse", reaching the Col de Creiu de Meians. It is marked with a cross, and a plethora of signs pointing in 3 general directions.


The option that would seem to promise a fast descent to the paved road in the valley, instead switches back to the west and contours along above the road for a long distance. My choice finally (after trying the other two) was, was to head direction Puigcerda, that is back north. On a mountain bike this soon becomes a quickly ridable dirt road. But it still contains a few up and downs along the traverse direction north. The last several miles are on a wide dirt road, the likes of which are common in my home, Colorado - about 3 times as wide as the paved cols through old villages that I had been riding during the past days. - What a change. The road meets pavement during the final descent to Queixans, a Catalonian village on the Spanish side. The houses have a completely different look than where I started today's ride.


cLiCk on image , arrows , or thumbnails to advance slideshow


Dayride with this point as highest summit:

PARTIALLY PAVED / UNPAVED

( < Col de Roque Jalere | Col de Puymorens > )

Pla de Salinas s(u) , Col de la Creu de Means : Latour de Carol > Bourg Madame > Osseja > Col de Pradeilles(shp) > Pla de Salinas s(u) > Col de la Creu de Meians (shp,2000m) <> out and back towards Freser with turaround point ~90m below Col de Creu de Meians > Col Marcer (shp,1946m) > Queixans > Puigcerda > back to starting point in Latour de Carol: 43.2m with 5350ft of climbing in 6:06hrs (garmin etrex30 r5:19.5.12)
Notes: Col Marcer doesn't have a possible 500ft of elevation gain on this side - turnaround point below Col de Creu de Means because it was getting too late to go all the way down north side - day also include a hike towards the mountains to the east from highest point of ride.