Kozica Pass

In terms of popuation, this part of Croatia is a linear country. The line of population and tourism runs along the coast, and this pass demonstrates that, by leaving the coast. This signed bike route is a complete escape from the coastal traffic, in which it starts. On the other side waits the impressive scenic desolation of the Biokovo Natural area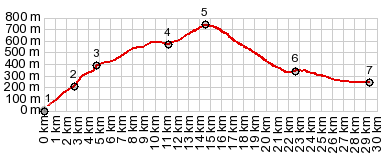 1.START-END EAST:low point in Podgora
2.profile goes right onto a narrow village road
3.profile turns right onto D512, coming up from Makarska
4.profile turns left onto smaller 6199
5.TOP, 740m
6.route turns right onto D62 in Kozica
7.START-END WEST:EAlow point on D62 just before jct on access road to A1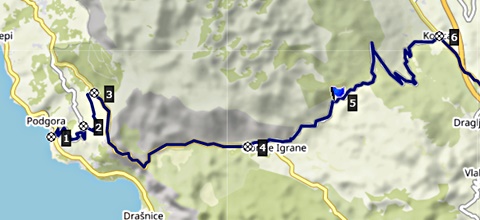 Approaches

From West. The lower part is the same as the approach to Hrasovac Pass, and that includes all the incredible Adriatic Sea views, a short tunnel and the cliffs. The version shown in the profile is not the regular big-road approach from Makarska, but a series of small and smaller (steep and steeper) roads through small villages on the hillside.

As the road towards Hrasovac Pass rolls over the summit plateau, this turnoff is actually signed as a bike route, and that is a rare thing in Croatia. The road passes a cemetery terraced along the road, and then the karst limestone topograph of the Biokovo area begins in hearnest. Every once in a while a high bare peak appears in the summit area. But you have to wait to the top to get the full view. At the top a group of houses blend in with the grey natural limestone.
From East. (described downwards) Switchbacks connected with long ramps lead down into the linear valley, flanked by this magnificent limestone mountain. The dwarf vegetation next to the road frames the view, but doesn't obscure it. The village at the bottom is also named Kozica and contains a number of war ruins.

Slideshow of the section turnoff onto 6199 to Kozica on eastern approach to start-end west.
cLiCk on image , arrows , or thumbnails to advance slideshow
Dayride with this point as highest sumit:
COMPLETELY PAVED:
( <
Sveti Jure
| )
Kozica Pass , Hrashovac Pass , D8 Igrane s(u) :
Camp Sela, Zivigosce > Mala Duba > Milagraned D8 Igrane s(u) > Podgora > up 6198 > up sideroad through several villages > up D512 > up 6199 > Kozica Pass > D62 south > D512 south > Hrashovac Pass with short village detour > down 6198 > down unpaved road through villages > Drasnice > D8 east with short church detour : back to starting point near Zivigosce : 58.2miles with 4460ft of climbing in 5:57hrs (garmin etrex30 r5:21.11.24).
Slideshow of section Podgora - turnoff onto 6199
cLiCk on image , arrows , or thumbnails to advance slideshow