Collado de Ibaneta

This is a main connection between Pamplona, Spain and St-Jean-Pied-de-la-Port, France. Yet, on my ride on a Tuesday, traffic was ligh, . - gentle grades, comparatively speaking for St Jean - and lots of forest. The top was a stratgically important area, when national conflicts were not just trade wars. There are remnants of bunkers to prove it.


1.(00.0km,0170m)START-END NORTH:St Jean Pied de la Port, Camping Municipal
2.(11.7km,0360m)Anbeguy
3.(25.9km,1057m)Collado Ibaneta
4.(27.7km,0940m)church Santa Maria de Roncesvalles
5.(53.5km,0540m)jct with N138 to Collado Urquiaga
6.(68.3km,0480m)START-END SOUTH:just north of Pamplona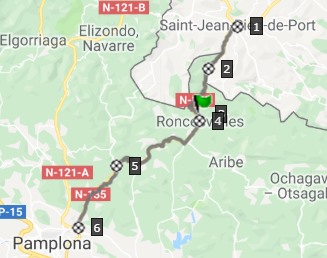 Approaches

From North. This is a wide well paved road, with none of the extremes of many of the infamous little pass roads around St Jean. Surprisingly, on this Tuesday I saw more bicycle traffic here than on any of the of scenic, famous extreme inclines. The road stays in the forest and views are limited to nonexistent. On top is a big meadow, a locked chappel-like structure, and informational tablets explining the bunkers, that were once useful for border hostilities.

From South. - A long roll through the forest with intermittent climbing to small high points. Functioning break shoes are optional, which is a good thing, because mine were all worn out from the previous rides around St Jean.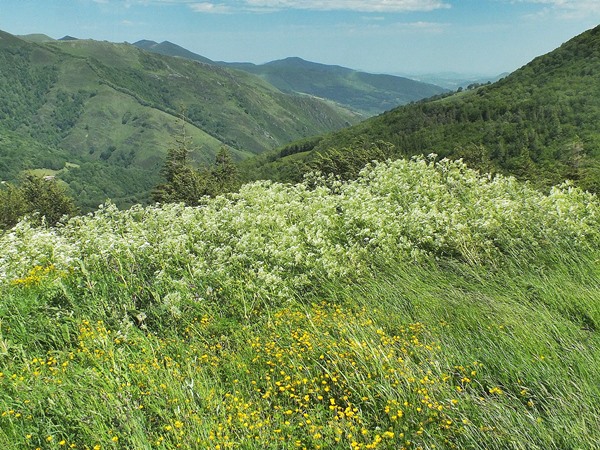 Dayride with this point as highest summit:

COMPLETELY PAVED

( < Col de Ibarbutua | Alto de Jaizkibe > )

Collado de Ibaneta , Collado de Urkiaga , Erro s(u): St Jean de Pied de Port > Arneguy > Collado de Ibaneta > N135 west > Erro > Erro s(u)[801m] > Agorreta > N138 north > Collado de Urkiaga > Aldudes > Banca > St Etienne de Bigorri > back to starting point in St Jean de Pied de Port: 70.1miles with 6554ft of climbing in 6:24hrs (garmin etrex30 r5:19.6.18)

History

Together with the Puerto de Somport, this pass is the most historically important of the passes in the eastern Pyrenees. But this one is 600 meters lower and useful for longer times of the year. Nearby grave sites date back 5000 years. Later an old Roman road connected the two villages Burdeos and Astorga, whose inhabitants later helped to defeat the Romans. Other famous historical crossings were the by Moors, retreating after their defeat from the battle of Poitiers in 732, also Napolean's troops that invaded Spain at the start of the 18th century. It is specuated that a battle resulting in a defeat of Charlemagne by the Bascs in 778 has taken place near the pass. For all that time, starting in the middle ages the pass has been used by pilgrims on the Camino de Santiago.

The slab stone monument at the top was put up in 1967. Apparently it comemmorates Roldan, who died in battle with the Basics in 778.

The simple, somwhat neglected looking chapel at the top reflects the history of this pass. Long ago a Roman altar stood in this vicinity dedicated to their god Sol Invicto. Later a christian chapel, that stood here was destroyed by the Moors during the battle of Poitiers. Charlemagne, undeterred by the Bascs, is said to also have built a chapel here.

In 1127 a first hosptal, dedicated to the crossing pilgrims was erected. Five years later it was moved down from the pass, where climatic conditions were more favorable for recovery. A small hermitage at the pass remained, though its upkeep was difficult.

The bunkers visible at the top were constructed by (Spanish) Franco after the Civil war. He feared an invasion of the allies after WW2.