Collado de Urkiaga

This is a parallel alternative to the main road between St-Jean-de-Pied-de-la-Port (France) and Pampalona (Spain) over Collado Ibaneta. I think it's the nicer of the two options. Urikiaga has even thicker forest on the Spanish side, and some nice views on the French side. Spellings of this name differ.

1.(00.0km,0470m)START-END SOUTH:north of Pamplona
2.(14.8km,0540m)profile turns left onto N138
3.(21.7km,0650m)Eugi
4.(22.6km,0650m)jct with road to Collado Oyalegui on left
5.(33.8km,0890m)TOP: Collado Urkiaga
6.(46.0km,0410m)Aldudes
7.(63.4km,0160m)START-END NORTH: St Etienne de Baigorri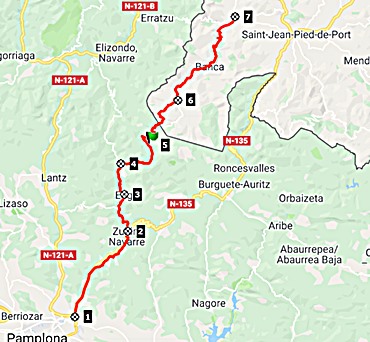 Approaches

From South. The profile starts at the turnoff from N135 north of Zubiri. On a very hot day it might be helpful to know that the gas station 400m after this turnoff has a water facet on the outside. It was very helpful to me, as I refilled all my water bottles on this 34 degrees C day.

Much of this climb is in deep forest, all of it in some kind of forest. Some of the deepest forest is where the road passes by an old industrial ruin, a munitions factory. How quaint and peaceful it looks today, with all reminders of the effects of these explosives removed. The top is well defined, and has various signs and picture maps, so you can fit yourself into the landscape. There is nothing to see of the actual thing, just close by trees.


From North. (described downwards). However - on this side of the water divide, trees are more selective in the slopes they populate. Soon a far view stretches downvalley, complete with mystery road cuts on the green mountain faces in the distance.

The boundary of the two countries is not at the summit, as is the case for Col de Ibaneta, but partly down this approach. As the road crosses into France the surface becomes much rougher and narrower. Maybe the thinking is, that you don't really want a good and fast highway to the gas station on the Spanish side, that costs 30 percent less than in France. But after the village Esnazu, the road has reached the valley bottom, and a good wide road leads slightly downhill - a good way to make up for lost time on the climb or hanging around a old munitions factory for too long.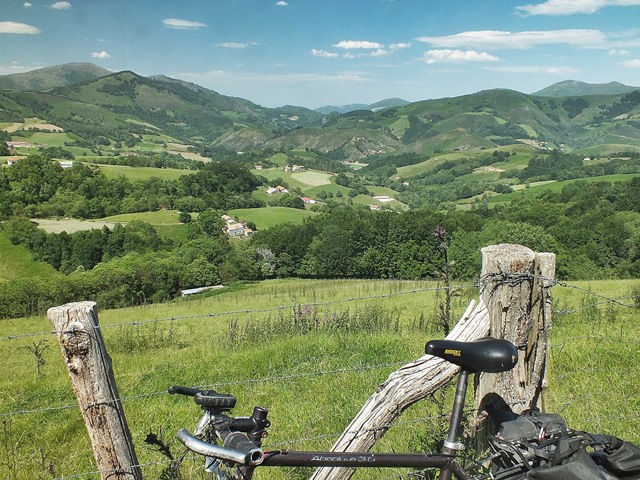 A Dayride with this point as intermediate summit is on page:
Collado de Ibaneta