Collado Foradada

This definitely does not seem to be one of the favorite passes for cyclists. It's a straight modern road with a wide roadbed, or in terms of things, that I am familiar with - it's a highway. I have more than enough of those where I live. The road is part of the Eje Piranaico, the principal route along the Spanish Pyrenees. All that being said, traffic is light and the ride is really very pleasant. There is still plenty to keep me busy not far from the side of the road, small villages and a huge limestone cliff.

I have used the pictures of panoramio and flickr contributors, as well as other web sites to illustrate this page. There are copyright notices and links to all original pictures. My own pictures were on a computer, that was stolen at the train station Frankfurt Airport (model Acer Aspire One (serial# NUSGPAA01625101C947600F)
1.(00.0km,0550m) START-END WEST: low point on N260, a few km east of Ainsa, immediately after the Embalse Mediano
2.(03.0km,0600m)jct with sideroad from Alto Los Molinos on left, below Arro
3.(14.0km,1020m)TOP Collado/Puerto de Foradada
4.(19.9km,0650m) START-END EAST: bridge over Rio Esera, and jct with A139, south of Campo


Approaches

From West. The profile starts at a low point, several km east of Ainsa, past a water reservoir. The village of Arro makes a interesting image with its medieval looking line of houses on a low outcrop. But right in the middle there is this strange looking watertower.

The appearance of the Pena Montanesa keeps shifting. Hard to believe, that this is the same landform that looks almost like a plug, but definitely like a block of a slanted plateau, from Alto de Fanlo. On this ride it becomes clear that this is a steep, curvy, very elongated limestone ridge. Stretching up its slopes are a few farms, and at least one little village next to the road, that is not on my maps.

The pass itself, passes a low saddle between the Pena Montanesa and a low ridge branching away from it. The road over the top is straight as an arrow, and there are some monuments with puzzling abstractions along the way. With good weather and a good telephoto lens there are far hilly views in three directions from the top.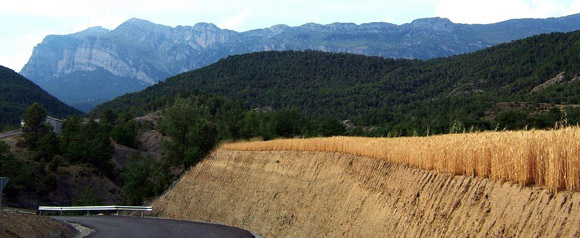 Copyright: Panoramio contributor: Cris Truero piclink


From East. I have to admit that I remember this as a big wide highway, and the steepness of the profile on this side at the bottom surprises me in retrospect. But then I only rolled down it. You always remember the climbs better. The profile ends in a puzzling spaghetti salad of highway intersection ramps, at what seems just a simple intersection. Traffic from here on in both directions is heavier. My own route continues north to Campo through a tunnel


cLiCk on image , arrows , or thumbnails to advance slideshow


A Day on a Tour with this point as intermediate summit is on page: Collado de Fadas