Collado de Fadas

This double summit over two is part of the Eje Transpyrenaico traffic route, a fairly busy road at the bottom, but not at all over the top. The second Collado is only a shoulder point. The most rugged part of this road is a canyon on its west side with 300 meter high, vertical walls and several short tunnels.

I have used the pictures of panoramio and flickr contributors, as well as other web sites to illustrate this page. There are copyright notices and links to all original pictures. My own pictures were on a computer, that was stolen at the train station Frankfurt Airport (model Acer Aspire One (serial# NUSGPAA01625101C947600F)


Copyright: Panoramio Contributor: Victor Ruiz Lairla piclink

1.(00.0km,0670m) START-END EAST: N260 outside of Campo
2.(19.6km,0910m)Castejon de Sos
3.(22.9km,1060m)turnoff to Bisaurri
4.(29.2km,1470m)TOP: Collado de Fadas
5.(37.3km,1407m)Coll de La Espina
6.(49.8km,0930m)jct with N240 from France
7.(57.0km,0820m) START-END WEST: bridge over Noguera Ribagorcana, just south of El Pont de Suert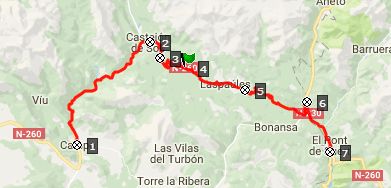 Approaches

From West. The profile starts outside of Campo. The town is fairly big and I find a picturesque row of houses to photograph in front of the mountains. It seems like it is the same group as the panoramio picture in the slide show.


You can see from the profile, that there is something wrong between here and point 2. No matter what profile correction threshold I choose, the spikes remain. This abnomality is Congosto de Ventamillo, an extremely narrow canyon, with what often seems like perfectly vertical walls from the road, It gives me another reason to be glad I am wearing a helmet, even though I suspect, if something would come down from above it would be too large and heavy for the helmet to make a difference. This is part of the Eje Piranaico and truck traffic can be a little unnerving on this shoulderless road, although all drivers seemed patient enough.


Before reaching Castejon de Sos, the road suddenly exits the canyon into a wide valley. Castejon seems like a busy tourist town with many tourist businesses organized around a wide elongated center - what a contrast to sleepy Campo. Traffic seems to be much lighter west of Castejon. By most accounts the pass road starts here. But in my case the weather deteriorates. I still get a few good pictures of mountain slivers between shreds of clouds. But they are quite different than the far views on verdant peaks, that I can find on photo sharing site, even though I do recognize the scences, and can figure out on what part of the profile they are taken.


There is a rudimentary gazebo set above the road on the summit. It overlooks the high Pyreneen border ridge with sweeping tundra slopes to the north. Instead I take a picture on the north side of the road: wild bushes with dark storm clouds revealing an outline of a mountain behind it. It remains in my own memory.


From East. The ride between the two named Collados over to Collado de Espina turns out to be wet and cold. But there are some heavy stone arches in the Ayuntamiento in Laspaules where I can find some shelter. Collado de Espina is only a shoulder point on the profile.


On the following descend I get so wet and cold that I stop in a bakery store, located along the road, and not near any villages, just in order to warm up for a couple of minutes. There are two more interesting locations of towns on a perch on the way down, Senui and Castarne. I miss the first one because of the rain. But the second row of houses up on the hill even looks good in flat grey light. I would venture a bet that the location of the scene in the slideshow is identical to the one I took. But the lighting on the included picture is better.


Traffic becomes the worst I have experienced on this tour so far, after the jct with N230 from Vielha. But it doesn't last long before I reach El Pont de Suert, where I turn off this road again.



A Day on a Tour with this point as highest summit:

COMPLETELY PAVED:

( < Alto de Los Molinos s(u) | Creu de Perves s(u) > )
Collado de Fadas , Collado Foradada : Ainsa > Collado Foradada > Campo with sightseeing detour > Seira > Castejon de Sos > Collado de Fadas > Collado de l'Espina(shp) > El Pont de Suert (m5:16.4,5)
Notes: gps data and distances are on stolen computer.



Copyright: Panoramio Contributor Michael Steen piclink