Eyne s(u)

Col de la Perche is a fascinating bike ride over a major pass in the Pyrenees. Near the top is the fort Mont Louis, the highest point of the Maginot defense line. On the western approach to Col de la Perche you are pretty much committed to the main road and all its traffic. However, in the gentle hills on the east side there are several ways to get away from the often heavy traffic on N116 (even though it does have a fairly good shoulder). All of these alternate options climb a little higher, and so the summit point becomes something different than Col de la Perche. All of these alternatives also deliver different, and I think better views. The summit through the town Eyne lies on the south side of N116.

1.(00.0km,1160m)START-END WEST: intersection west of Puigcerda
2.(03.6km,1190m)Llivia
3.(13.7km,1490m)profile goes right to Eina
4.(18.2km,1620m)TOP: Eyne s(u)
5.(19.7km,1579m)profile rejoins Col de la Perche route
6.(22.4km,1560m)Mont Louis s(u)
7.(31.9km,1060m)Fontpedreuse
8.(42.6km,0620m)START-END EAST: Olette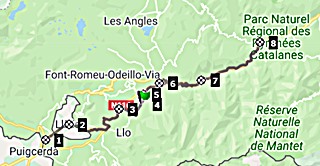 Approaches

From West. The profile includes the lower part of N116. One of the fun things of riding on this road is watching for Tren Jaune slowly creeping along the tracks through the bare landscape, not far from the road. Not long after the train is right next to the road and enters a tunnel, with yet another Col sign, the road to Eyne branches off to the right. It reaches a summit not long after climbing through the old town Eyne and past its church.

From East. A short descent delivers some good views onto all the other N116 alternatives, located up on the ridge north of the main road. Then the profile rejoins N116 right at the Col de la Perche sign All the possible summit points across the valley on the other ridge are just slightly higher, so the profile goes down the eastern approach of Col de la Perche.

cLiCk on image , arrows , or thumbnails to advance slideshow
A Dayride with this point as intermediate summit is on page:
Col de Mel