E65/D8 Senj - Stinicia s(u)

I rode this little summit when this was still Yugoslavia, and I was convinced, that this was the most beautiful coastal road I could ever have dreamed of riding. In the last decades, I have met several cyclists who come to a different conclusion. They find this road hard to enjoy because of the traffic.
I rode this again as a dayride on a Sunday in mid October 2021, and the traffic was not bad. It was not as good as during communist times, but what do you expect ? The scenery is still as stunning as I remember it.


1.START-END NORTH:immediately south of jct 5126 (to Otari) - E65
2.TOP: 1250ft~381m
3.profile leaves coastal magistrale for ferry from Stinicia to Rab
4.START-END SOUTH: ferry terminal in Stinica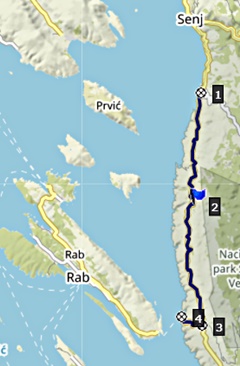 Approaches

From North. The small shallow climb does not really start until 10km south of Senj. There are several labeled points on the map in that section. But I dare anybody to remember them, unless you live here and have explored off the main road.

This is the scenic side of the climb, morning light is best, and it's all about three small rocky islands between the major islands Rab and Krk. Each one seems to have its own brand of dry perched rocky gleam, complementing the blue sea. There is a private resort near the bottom, before the first of many false summits. It may look interesting to explore - it is not. The next knoll next to the road beckons to be walked up. It is thorny and the limestone cuts through shoes that may not have been made for this terrain. It is still far from the highest point. When the summit comes closer it will be obvious.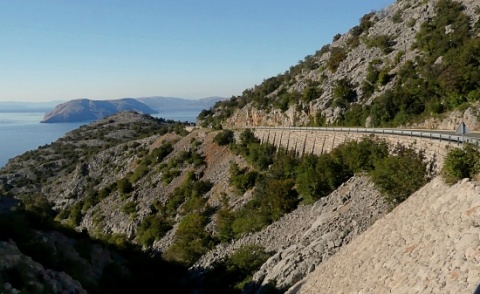 There is actually a small shoulder next to the road going south, but not north. Remnants of an old narrow road predecessor, complete with hand-built supporting walls and stone arch bridges can be seen in places, next to the new highway. What a bike road that would make in a country that can afford these things !!!!

From South. (described downwards) As the road rounds the summit, the dessert island scenes disappear. Rab has a different appearance on this side, and the later light makes it a flat paper cutout. The profile goes down to the ferry towards Rab. The coastal road stays higher.

cLiCk on image , arrows , or thumbnails to advance slideshow
Dayride with this point as highest summit:
( <
jct 5047-5048 Veprinac s(u)
|
5110 Smokvica-Senj(sh)
> )
E65 Senj - Stinica s(u) x2:
~4km north of Senj <> Senj with sightseeing detours <> D8 south <> Svet Juraj with sightseeing detours <> E65 Senj - Stinica s(u) <> turnaround point ~420ft below summit: 54.5miles with 3860ft of climbing in 5:18hrs (garmin etex30 r5:21.10.17)
A Day on a Tour with this point as highest summit:
E65 Senj - Stinica s(u):
Senj > Prizna > ferry to Pag[island] > Pag[town]: 59miles (mechanical odom m1:89.11.13)
Notes: part of a tour from Bremen to Istanbul