jct 5047 - 5048 Veprinac(sh)

This point is a junction of two lower-approach options at the base of Poklon. The shoulder summit point is at roughly 1/2 of the elevation up Poklon. At the top is an interesting old church, something that is likely to be missed on a ride over Poklon and up Vojok, because the day has only that many hours of daylight, especially in late fall, when I was here.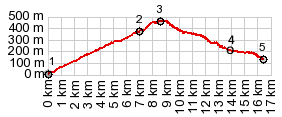 1.START-END EAST-1:jct 5048-5047 Icici
2.route crosses A8 on bridge
3.TOP: turnoff to Veprinac churd 1509ft~460m
4.Mihotici
5.START-END EAST-2: jct 5048 with rd to Opatija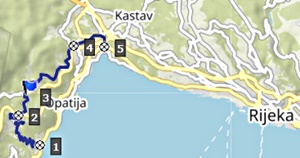 Approaches

From East-1. This is the more pleasant climb - a little less traffic. But the turnoff from the Opatja Riviera, up this road, may not be completely obvious. It is the same road as the Opatja Autocamp is on, and that is signed pretty well. After that you just take the switchback ... and the next one ... and the next one.

The road winds through one vacation villa neighborhood after the next, with the occasional ancient church thrown in. The old church at Veprinac is a little higher. It is the most scenic and peaceful spot by far along this entire route.

From South. (described downwards) This approach runs in wide flung bows along a gentle, wide ridge. It collects many of the villages, or at least it comes close to their perimeters. As the road enters Matulji traffic becomes hopeless, and bicycling gets a lot less fun, assuming you can still call it that.

cLiCk on image , arrows , or thumbnails to advance slideshow
Dayride with this point as highest summit:
( <
Poklon s(u)
|
E65 Senj - Stinica s(u)
> )
jct 5047-5048 Veprinac s(u):
Icici > up 5048 with several miles of exploratory detours along the hillside > jct 5047-5048 Veprinac s(u) with detours around the summit > down 5047 > Rukavac > Matulji with detours > back to starting point in with detours: 23.8miles with 2760ft of climbing in 3:02hrs (garmin etrex30 r5:21.10.15)