Col de la Croix Haute

Many French pass names start with a croix (cross) of some sort. This is not one of the famous croix passes for cyclists. This is where D1075 crosses a low spot from the valley of the Ebron to a river called Le Buech. But the distant views of the main ranges in the alps in the valley approach can be very hypnotizing, I barely even took note of the traffic.


1.(00.0km,0816m)START-END WEST: low point on D1075 at a small stream crossing
2.(00.7km,0830m)turnoff to Monastier de Percy
3.(11.8km,1167m)TOP: Col de la Croix Haute
4.(14.9km,1070m)turnoff to Col de la Grimone on left
5.(22.3km,0960m)START-END EAST: intermediate low point on D1075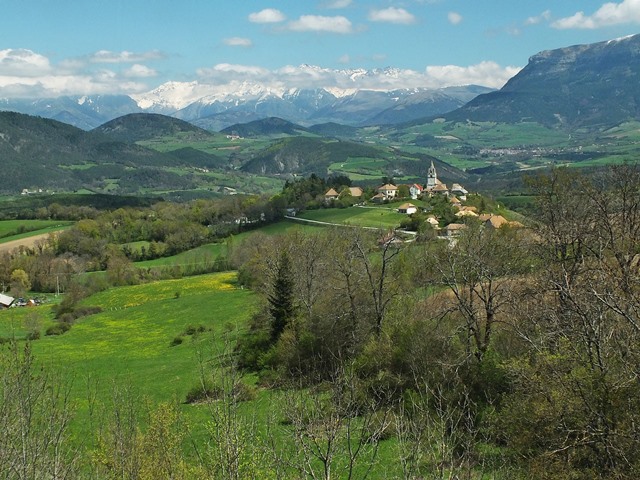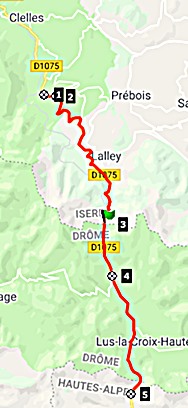 Approaches

From North. D1075 contours along on a gentle slope above the valley of the river Ebron. The spectacle is on the other side of the river and far away, good light necessary to see anything - where various massifs of the alps form a spectacular background.

The road just seems to roll along. But according to the profile, it does start to go uphill in a netto sort of way, starting aproximately at the turnoff to Monasterie de Percy. This suits me fine, because just at that point I took some of my favorite pictures for that ride, and this way I can include them. As the road exits the valley and starts its minute really noticeable climb to the summit, but the views disappear. The most exciting thing at the summit is the sign with the name of the pass on it.

From South. Gradual descend in a shallow valley. The first option to get away from the traffic and improve the quality of the bikeride again, is the turnoff to Col de Grimone

A Dayride with this point as intermediate summit is on page:
Col de Menee