Col de Cou
Les Voirons is a small forested mountain area east of Annemasse that has a copious amount of small passes and other summits to be crossed by the appreciative cyclists of Geneva and Annemasse. Col de Cou is in the middle of this range, right between
Col de Saxel
and Col de Feu. Of the three Col de Cou is the highest by a few meters.

1.(550m,00.0km) START-END NORTH: profile starts on a small path. leaving D903
2.(590m,01.7km)jct:D35 - D235, south of Fessy
3.(1116mm,08.6km)TOP: Col de Cou
4.(800m,017.0km)Villard
5.(750m,20.2km)START-END SOUTH: Boege
6.(550m,27.6km)START-END SOUTH ALT: bridge over La Menoge, north of Filinges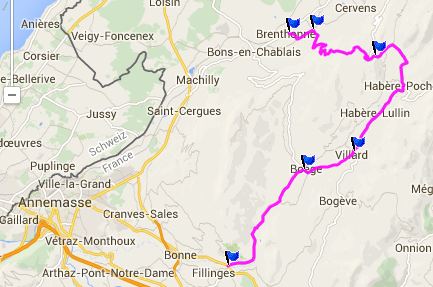 Approaches

From North. There are two separate approaches from the Lake Geneva side that meet a short distance below the summit. The profile follows the smaller of the two roads , coming up from the east. My ride was especially peaceful, since the road was officially closed. But I don't think this road sees a lot of traffic even when it's open. The reason I say this, is the presence of many gardens immediately next to the road, even inside one switchback. Would you want to plant your radishes in the middle of traffic ? Riding here, there are the usual subdued views of Lake Geneva. Nearing the top is an imaginative modern sculpture at the sight of a WW2 resistance fight. The chaos of war is hard to imagine now, in place that is so peaceful. The top has a extraordinarily expensive restaurant and bar with a view, but only in the Lake Geneva direction.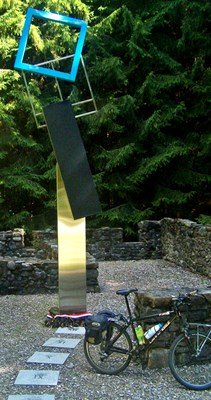 From South. (described downwards) A short descent leads into a gentle green valley, aptly named Valle Verde. There is no evidence here that vertical walled alps are just a few kms away. This landscape could also be in any mostly flat country. After a short descent you can also elect to climb back to Lake Geneva via Col des Moises, or better yet into a more scenically rugged area over Col d'Arces.


A Dayride with this point as intermediate summit is on page: Col d'Ajon