On my dayride over summits around Nice, this pass had the most cyclists on it, and also the least automobile traffic. From the top a trail climbs to ruins of an old castle on Mount Macaron (806m).



1.(60m,00.0km)START-END EAST: M19 in Saint Andre De La Roche
2.(360m,07.8km)START-END EAST ALT: Tourette-Levens: jct with road to Aspremont on left
3.(627m,14.8km)Col de Châteauneuf
4.(190m,22.5km)profile turns downvalley in Contes
5.(130m,26.1km)jct D15-D2204
6.(100m,29.1km)Cantaron
7.(80m,31.3km)START-END WEST: North end of Nice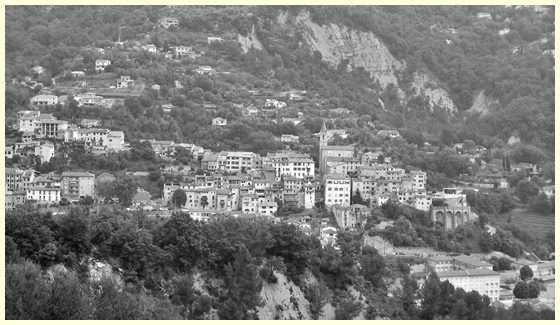 Contes, from lower southern approach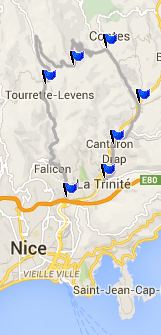 Approaches

From North. Compared with the adjacent summit to the west in Aspremont, this road goes through a virtual wilderness, but only in a relative sort of way. There are still plenty of signs of civilization - from the past. On top there are several benches, and informational sign about the castle on top of a cone shaped mountain, also a private residence across the street, but none of the regularly spaced houses on the hillside of the Aspremont variety. The views reach from Aspremont to the high snowy ridgeline to the north

From South. (described downwards). Once you loose sight of Aspremont to the west, the next hilltown on the ridge to the east comes into view. Actually there are two of them, Contes fairly close to the valley floor, and Berre les Alps, a little higher than this pass. At the first switchback an unpaved track allows you to contour along the hillside to Bendejun, instead of descending further.


A Dayride with this point as intermediate summit is on page: Chemin de la Greo: Berre les Alps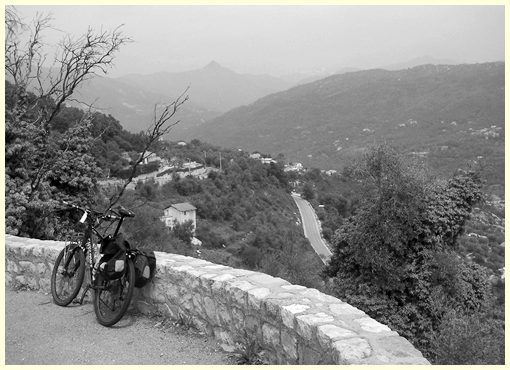 a hazy day on the Col de Chateauneuf