Col des Ausines

This pass is only about 610 meters high, but on top of this unobstructed windy plateau that is more than enough for far reaching views. Across, in the Massif de Canigou, you need about twice that elevation to have a chance to get above the trees. This summit can be incorporated into many different loop rides, partly because three roads meet at the summit.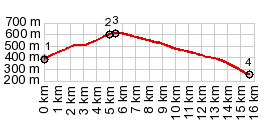 1.(00.0km,0390m)START-END WEST:bridge over river La Desix at jct with road to Sournia
2.(05.0km,603m)Col des Ausines
3.(05.5km,620m)TOP: Col des Auzines, highest point for these 2 approaches
4.(15.6km,0250m)START-END EAST:bridge over la Tet revervoir, Vinca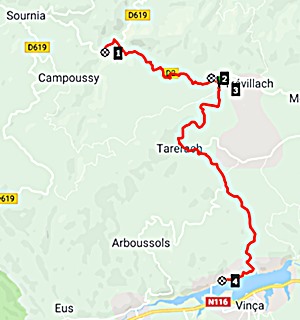 Approaches

From West. The profile starts at a low point between approaches to this pass and a lower apprach to either Col de Roque Jalere or Col d'Ausines. The same point is also a junction with a road following the river Malassa upstream.

Two stone bridges crossing a creek at this point: a new one, and a picturesque, still functional looking old stone arch bridge. The road in the proifle leaves the valley immediately and climbs the rounded shrub forest ridge in a long traverse.

Three roads meet on the top. The one heading south towards Vinca climbs about 10-15 meters higher. But I will still call this one summit point

From South. A long traverse along a gentle bowl leads the narrow, peaceful road down into the valley. In Tarerach I am greeted by a metal sculture of a high wheeling bicycle rider. He is much higher than the road is wide. Electing to go the direct way down direction Finca, there is a last fine view of the Massif du Canigou with Finca in the foreground.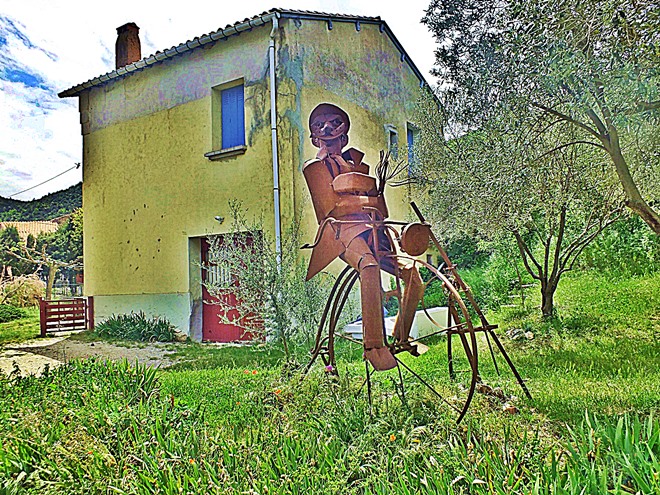 A Dayride with this point as intermediate summit is on page:
Col de Roque Jalere