58064 Moscenice - Brsec s(u)

D66/E751 follows Istria's mountainous north-eastern shoreline very closely. It hugs every bay and every turn shows something new. It seems like it would be a great bike ride. If it only there wasn't this much traffic, this close to Rijeka. This short section parallels the main road and leads over a scenic little summit. I think it is actually better than anyting parallel D66/E751 has o offer.


1.START-END NORTH: roundabout outside of Moscenicka Draga
2.Moscenice and turnoff to Natural Park
3.TOP,1060ft~325m
4.profile joins main road along Istrian coast in Brsec
5.START-END SOUTH: same as point 1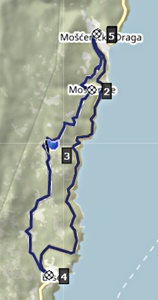 Approaches

From North. On the south side of Moscenicka Draga, there is a roundabout with all kinds of possibilities. One of them is Route5082 to Moscenice. But the route number is not on the sign. A short climb leads to a small village surrounding a castle, perched on a hill over the sea. Below is a description of a nice sidetrip possibilty from here.

Past the castle there is virtually no traffic on the road, but the most substantial part of this small climb is still ahead. At the top the viewshed changes somewhat to the north.

From South. A relaxed shallow decent leads through small villages, containing an average of about four houses each. A sign states that they have a church and three other things, specified by (to me) undecipherable images. But I only ever say a couple of houses. At the junction with the larger D66, there is one more village, this one a little larger. It clusts around a castle, overlooking the sea: Brsec. Tiny rough stone walkways connect modern doorframes in a small maze of walkway alleys. I wonder what these dwelling look like inside. Are they as old as the stone of the walkways, or as modern and comfortable as the slick modern entrances. I suspect the latter.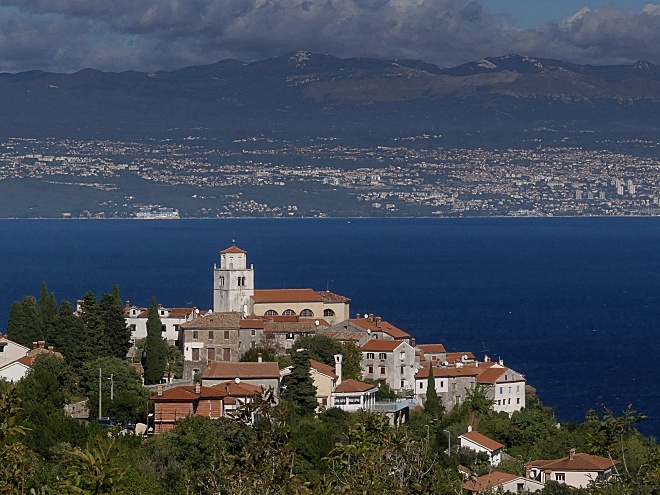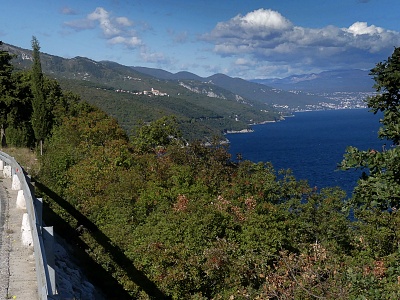 The profile from here goes back direction north on busier D66. But this far from Rijeca it is really not bad at all. Traffic will increase with each km that you go north. From below the castle in Moscenice complements the shoreline, shaped like a wave itself as it undulates into the stark stalagtite background composed of the Rijeka high rise buildings.

Sidetrip to Ucka Park Prirode Natural Park entrance: Across from the castle in Moscenice a sign points the way to trail to Perun, apparaently an old abandoned village on top of a rounded mountain. But actually the "trail" turns out to be an extremely narrow and steep paved road, zig zagging up the green hillside. The views gradually come to include rows of long islands that are stacked in front of the Croation coast, like gigantic waves themselves. The castle too moves more and more into the domain of the sea. The pavement ends shortly after a parking lot to the entrance of the Natural Park. A good dirt track continues into the high forest and continues onwards towards various possible summit points. But I turned around with my skinny tire touring bike. The short unpaved section I tried out is entirely in the forrest and has no views.

Slideshow of the out-and-back paved summit:

cLiCk on image , arrows , or thumbnails to advance slideshow
Dayride with this point as highest summit:
PARTIALLY PAVED / UNPAVED
( <
Monte Di Ragogna s(u)
|
Poklon s(u)
> )
58064 Moscenice - Brsec s(u) :
Icici > Lovran > Redveja > Moscenicka Draga > Moscenice <> out and back to a 1-2m beyond end of pavement on paved road to Ucka Park Prirode Nature Park park sign >> Moscenice - Brsec s(u) > Brsec with sightseeing detours > D66 north > Redveja > Lovran > back to starting pint in Icici: 31.8m with 3370ft of climbing 3:42hrs (garmin etrexm30 r5:21.10.13)
Notes: short ride after the morning rain stopped sometime before noon