Donner Pass
The summit section of Donner Pass is one of the few roads, that really seem like they are tailor made to be bicycled. One prerequisite for this is almost always, that there is a quicker way to bypass the route for cars. There is in this case : US80 crosses this mountain divide to the north. I saw almost as many bicycles as cars on this road. The section that causes people to stop and look around is really pretty short, but it is beautiful, and history lives on this pass.


1.(5570ft,mile00.0)START-END WEST: I80 exit to Eagle Lakes Rd
2.(5670ft,mile01.5)profile exits I80 onto service road
3.(6740ft,mile11.1)START-END WEST ALTERNATE: Soda Springs
4.(7135ft,mile14.6)TOP: Donner Pass
5.(5980ft,mile17.5)jct with western access to South Shore Drive around Donner Lake on right
6.(5970ft,mile20.9)jct with eastern access to South Shore Drive around Donner Lake on right
7.(5910ft,mile22.3)START-END EAST: downtown Truckee
8.(5810ft,mile23.8)START-END EAST ALTERNATE: Brockway Rd crosses Truckee River

Approaches
From West. The description starts at exit 165 of I80. Here starts the section labeled as "US40 scenic bypass". It makes a great bike ride, but you can't make a day loop out of it. The label "historic bypass" would fit even better than "scenic bypass". Because every few miles there is another excuse - even valid reasons - to get off the bike and read another historical information tablet next to the road.

The first one comes soon after the exit. An old stone ruin was once was a souvenir shop next to the old "Lincoln Highway Route". Now US40 makes its way through the trees and houses hidden in the forest, crosses under I80, and at the next turnoff you can actually see part of the original old roadbed of US40. It was the first transcontinental auto highway. The embankments holding it next to the river look more like something my grandfather constructed in his garden, than a highway nowadays. Only a mile or two can still be driven, and these days even cycled.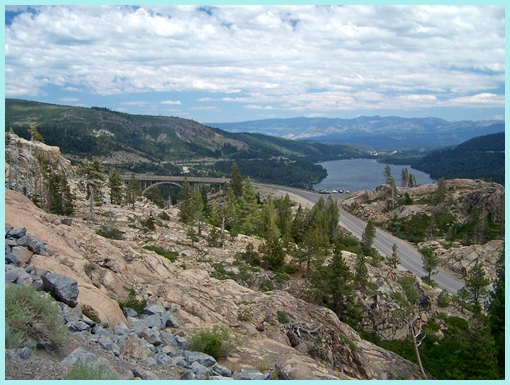 Now the road crosses the Yuba River and the first mellow climb runs along a set of adventurous houses, set amongst boulders on the river. These boulders are just about as big as he houses themselves. US40 continues within ear shot of US80, climbing only slightly. Even when the information tablets next to the road talk about nothing else except, the ski industry, Sugar Bowl, the ski town of Norden, ski lodgments and so on, the road continues in topography that does not look very challenging for a skier. Yes - there are mountains on both sides, but they do not look big from this vantage point. The railroad manages to climb up the valley also. The summit comes up quickly without need for any curves in the road. The top is a busy place with a large building belonging to a ski school, transmission towers on one side, the Pacific Crest Trail crossing and another stretch of old historic US40, paralleling today's US40 route.

From East. (also described upwards) One could make the argument that this approach really starts in Carson City and follows the Truckee River to the town of Truckee. But that profile contains a long section with plenty of rolling hills between Boca and Truckee, and I80 below Boca is probably not the best bike route.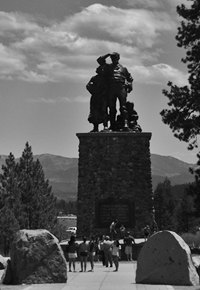 So the profile starts on Ca267 at a low point where it crosses Truckee River. A shallow climb follows Ca267 into the town of Truckee. Next comes a flat promenade along Lake Donner. The beginning of this section is marked by a bombastic statue of the Donner emigrants near the entrance to Donner Lake State Park (picture on right). Contining on US40, well marked bike lanes on both sides separate a peaceful idyllic lake on one side from a parade of extravagant lake front homes on the other. An even nicer alternative for this sections is riding around the others side of the lake, starting in the state park. A short stretch of forest road, closed to cars, connects with the lake front drive on the west side. Housing on the north side of the lake is not quite as splashy.

Okay - finally - there is some climbing to be done after all. After a short time the road reaches treeline. This short, last section to the summit contains all the scenic thrills of the ride. Above, the small, but adventurously placed "rainbow bridge" swings the road to the top. Across to the east the railroad is condemned to run inside a stove pipe like show shed, that makes sure that California Zephyr tourists are frustrated by only catching second long glimpses of the mountains. Several switchbacks of the road maneuver between huge boulders of exfoliated granite. Compared with these bicycles and cars have something in comon. Both look like aunts. The road reaches the top before you know it.

Dayride with this point as highest summit:

COMPLETELY PAVED:

( < Sardine Lookout s(u) | Brockway Summit > )
Donner Pass x2 : jct Troy Rd - US 40 > Norden > Donner Pass > Truckee > several miles around Truckee including Ca267 south, Brockway Ave west, around north side of Donner Lake > Donner Pass > back to starting point <> separate out and back west on US40 to end of US40 senic bypass at exit 165: 60.9miles with 3790ft of climbing in 4:57hrs (VDO MC1.0 r2:13.7.15).