Brockway Summit
About the best thing I can find to say about this summit is, that it is not dangerous. There are no rumble strips and there is a spacious shoulder. This is one of several very busy access roads to the Lake Tahoe area, (the others are Spooner Summit and Mount Rose Summit). Of those three it is by far the lowest, and scenically the least interesting. It probably also caries fewer cars than the other two. But after riding Brockway Summit in the summer and being passed by thousands of cars, this may be difficult to believe.

My favorite spot along this profile is at the start of the northern side, in King's Beach, watching the life on the water.


1.(6260ft,mile00.0)START-END SOUTH: Ca28 - Ca267, Kings Beach on Lake Tahoe
2.(7179ft,mile03.3)TOP: Brockway Summit
3.(5750ft,mile11.2)START-END NORTH: Ca267 crosses Truckee River, east of Truckee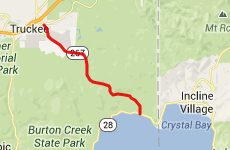 Approaches
From North. Leaving King's Beach a steady climb at uniform grade leads to a sign saying "Brockway Summit", with housing turnoffs. The only interesting view along the way is from the turnoff to the Tahoe Rimtrail trailhead, north east side of the road.


From South. (described downhill). The shoulder on this side is in sad shape, but at least there is one, and there is no rumble strip. After the descent the road still has to cross the flat plain named Martis Valley before it gets to Truckee. The nipple shaped mountain that appears at the horizon for a few seconds is Castle Peak (9103ft) north of Donner Summit (the I80 crossing next to Donner Pass)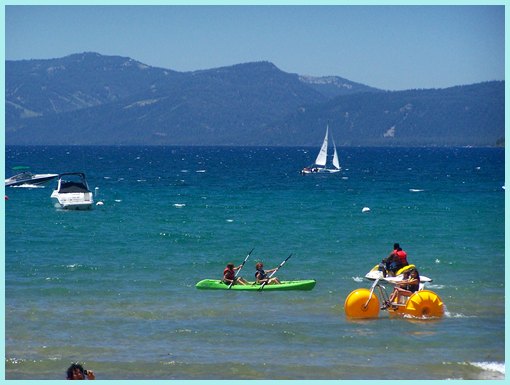 resting up with a relaxing view from King's Beach, for all the traffic on Brockway Summit

Dayride

COMPLETELY PAVED:

( < Donner Pass | Lassen National Park Road Summit > )
Brockway Summit , additional out and back: Truckee > Ca89 south > Tahoe City > King's Beach <> out and back to Crystal Bay > Ca267 west > back to starting point: 42.0miles with 2260ft of climbing in 3:12hrs (VDO MC1.0 r2:13.7.16)
Notes: There is a bikepath on Ca89 from the Squaw Valley access road to Tahoe City. But it is barely surfaced and is full of cracks. At least during the summer this loop has too much traffic on every part of it to really be enjoyable.