Webster Pass

Webster Pass is the steepest alpine jeep trail crossing in the Front Range. It still pales in comparison to Argentine Pass. But that is not a through going double track. Webster Pass is roughly 100 feet higher than adjacent Loveland Pass, but lower than Trail Ridge Road, Fall River Pass and Jones Pass to the north.



click on profile for more detail

1.(mile00,9020ft) START-END SOUTH: Webster
2.(mile02,9543ft) Burning Bear Trail joins from right
3.(mile05,9880ft) turn right onto jeep road into Handcart Gulch
4.(mile05,9920ft) route splits. Both routes will rejoin in 2 miles.
5.(mile08,11207ft) jeep road becomes steep jeep trail
6.(mile10,12096ft) TOP: Webster Pass
7.(mile11,11421ft) continue downvalley, slightly right
8.(mile13,10523ft) turn right onto good dirt road
9.(mile15,10299ft) town of Montezuma
10.(mile15,10023ft) go right for Argentine Pass, stay left for Keystone
11.(mile20,9350ft) START-END NORTH: junction with Loveland Pass road.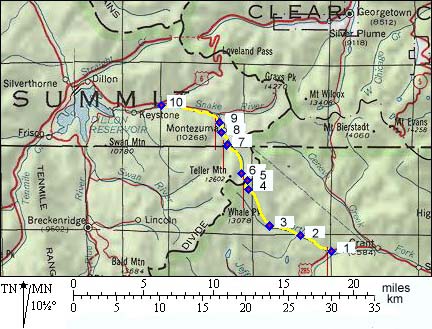 Approaches
From North. When cycling Webster Pass from Keystone the world around changes dramatically. Cookie cutter ski resort condos disappear. Log cabins and signs of historic mining activity take their place. Soon after they too disappear below and the road enters its extensive above treeline portion.

From South. The approach from the spot named Webster on Rte 285 roughly parallels the Guanella Pass approach. At mile 8 the character of the appraoch changed abruptly. It is as if you are crossing a fold in a page. The trail leads up to a steep shelf skirting Red Cone along the way. Snow drifts on top linger till late in the year.
Dayride with this point as highest summit

PARTLY PAVED/ UNPAVED:

Webster Pass , Georgia Pass, Kenosha Pass: jct Co - Swan Rd, north of Breckenridge > up Swan Rd > Georgia Pass > US285 north > Kenosha Pass > Webster > Webster Pass > Montezuma > Keystone > back to starting point on Swan Rd: 65.3miles (mech Odo m1:86.8.17 dr6_25-40)
Notes: partly with DBTC

A Dayride with this point as intermediate summit is on page: Argentine Pass (dr8_32-42)

History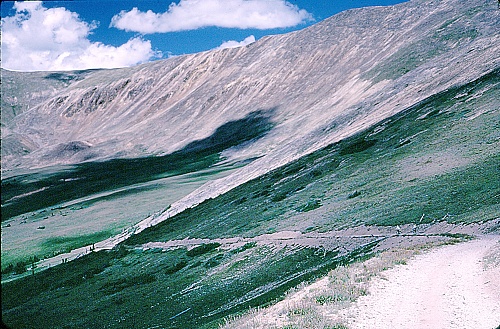 Colorado Gold Rush of 1859/60 (<Argentine Pass): Webster Pass was the final attempt to at least shorten the circuitous route between the Breckenridge area mining towns and Denver. A previous more direct approach to this problem, over Argentine Pass, had essentially failed.

In 1878 the Webster Brothers build a road over what was called Handcart Pass. While not as ambitious a shortcut as Argentine Pass, it was at least shoreter than the route over Georgia and Kenosha Pass crossings.

At this time a new mining boom got under way, making Leadville the center of roadbuilding attention. This meant the mighty ridge of the continental divide would be on the receiving end of more elaborate road building attempts. But that's really the start of another thread, the Leadville Period.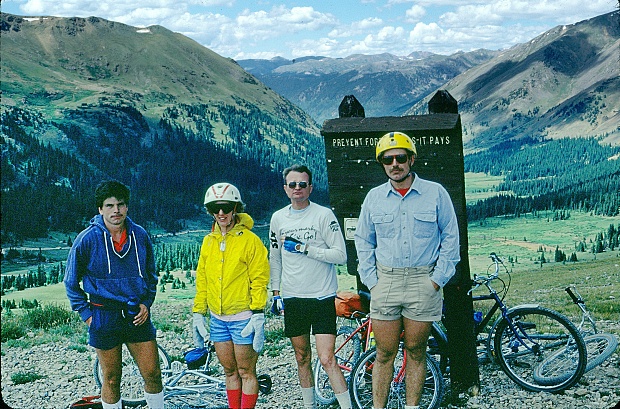 Cycling. An early mountain biking guide, first published in 1987, when moutain bikes had no suspension whatsoever and "gravel biking" was not yet invented (but practiced), describes an out and back ride from Montezuma to Webster Pass as "ride rating: strenuous, skill level: intermediate, and aproximate ride time: 3 hours".(William L. Stoehr's: Bicycling the Backcountry).
cLiCk on image , arrows , or thumbnails to advance slideshow