Wasatch Connector Trail

Sawatch Mountains - Wasatch Mountains. It all can be very confusing, at least for me. This is the way I see it:

Most everybody agrees, that the Wasatch Mountains are in Utah and the Sawatch Mountains are in Colorado. But there is also a singular wayward Wasatch Mountain, that seems to have landed in Colorado, near Telluride in the San Juan Mountains to be more exact. A loop trail crosses this mountain, labeled as Wasatch Trail on maps. The summit is informally, often called Wasatch Pass. But to make things even more confusing, there is also a Wasatch Connector Trail, which connects the former loop with the network of trails in the Telluride Ski area. Its highest point is near where it connects to the ski area, a couple of hundred feet short of the highest point, that can be reached with a lift. The loop shown here, goes over this summit, and does not go over the still higher Wasatch Pass. Instead it descends along Bear Creek back into Telluride. For me, much of this was a hike your bike kinda bikehike.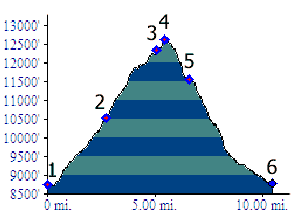 click on profile for more detail

1.(8750ft,mile00) START-END WEST: Boomerang Road leave Co145 at San Miguel
2.(10535ft,mile03) START-END WEST ALTERNATE: Station St Sophia (ski lift)
3.(12356ft,mile05) Wasatch Connector Trail leaves See Forver Trail below Gold Hill
4.(12630ft,mile06) TOP
5.(11580ft,mile07) jct with Wasatch Trail. Profile turns left down Bear Creek.
6.(8780ft,mile11) START-END EAST: junction Pine Street - Main Business Street, Telluride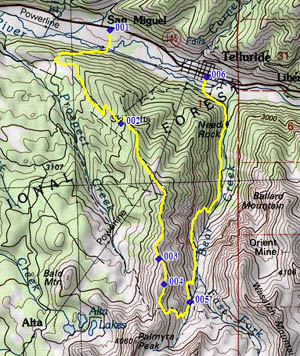 Approaches
From West. The profile starts at the valley floor in Telluride. But once you are in Telluride the easiest way to start this short excursion is with a ride on the free gondola to St Sophia Station at 10535ft. Bicycling this first section inside the ski area is not legal, even though there are plenty of suitable tracks visible from the gondola. The profile shows the most direct way up that is bikable. It is the Boomerang Trail from San Miguel (located down a couple of miles on the Telluride Co145 spur). However the easiest way up, under your own power, is probably pavement to Mountain Village, and then the Boulevard Trail and Village Trail to this ski lift station.

Next to the ski lift station an attendant in a tiny hut will be happy to point you to the See-Forever Trail. Even without that help, it is pretty obvious, follow the ridge line where ever possible to the west. If the route doesn't follow the ridgeline exactly, there will soon be a connecting trail to the ridgeline. This is definitely not the most bikeable trail up here, probably the least bikeable. At one point early on the ascent, the easiest way is to walk the wooden stairs on the side of the trail, while pushing the bike next to the stairs. Later on I still had to resort to pushing the bike, traversing the ski slope, only to discover that there was a more readily negotiable road next to my ski run. As already said - not very bikeable, but there are some sections that are ridable. They just go by a whole lot faster. But the route does have the best views, especially across to Imogene Pass and that incredible amphitheater around Telluride. To the south is the whole Mount Wilsons panorama, albeit on top of scenery cut to pieces by ski runs. After passing a vino bar, or some such ski thing, it is not far to the turnoff onto the Wasatch Connector Trail. Signs point you in the right direction, if you are in danger of being mislead by a descending ski run. But there is no sign at the actual trail turnoff. It is located directly under an impossibly steep, short slope to the highest lift station around. It sure seemed like this turnoff was the highest point on the trip. However, according to topo maps the connector trail rises a little bit while it contours towards Silver Mountain.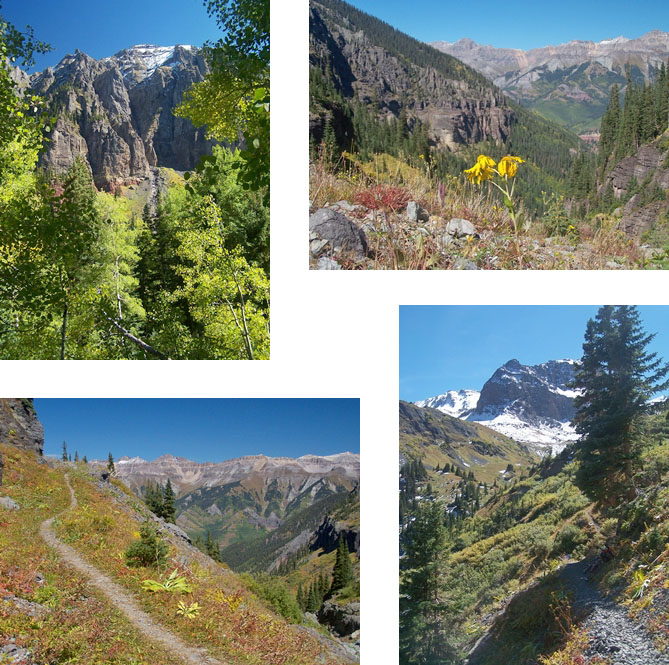 From East. (described downwards). The trail continues to contour gently down in front of the backdrop of Silver Mountain. This part of the trail is generally rideable, though the dropoffs may make it seem sensible to get off and walk once in a while. A tight set of spiraling curves leads down to the junction with the Wasatch Trail. Going left continues downhill. From here the descend makes a nice hike, even though some of the descends involve such long, straight forward traverses along the hillside, even I was tempted to get on my bike to see if I could perhaps not break my neck. Along the pleasant walk down, the trail passes a waterfall and immediately afterwards crosses a small wooden bridge, that would be very adventurous indeed, if someone was to ride across it. Once on the valley floor, the route becomes easily rideable, but still pretty rocky back into town. The trail emerges along Pine Street.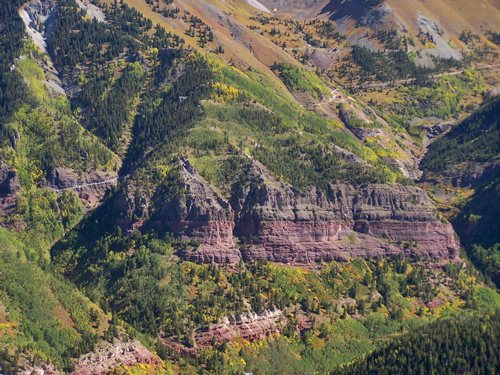 Pictures: top group of four: lower left picture taken on the Wasatch Connector Trail. The other three along Bear Creek on the eastern side. Picture above shows the lower Imogene Pass road, as seen from the ski area trail.





Dayrides with this point as highest summit:


PARTIALLY PAVED / UNPAVED / SINGLE TRACK

Wasatch Connector Trail s(u) , additional out and backs: Society Turn (Telluride turnoff on Co145) > bike trail into Telluride > gondola ride to St Sophia Station > See Forever Trail or parallel route > Wasatch Connector Trail s(u) > down Wasatch Connector Trail <> out and back on Wasatch Trail as far as the end of the first steep part > down Bear Creek Trail > bike path back to starting point: 20.4miles with 2630ft of climbing in 3:43hours (VDO MC1.0 m3:11.9.23). Notes: I had every intention of biking the whole way up. but found out this was not possible without making a big detour until I was in Telluride - what the heck, it's a free gondola, and my bike survived it too. Also - Wasatch Pass was visible after out and back from jct with Wasatch Connector Trail. It was covered in snow on this Sept 23. First snow was on about Sept 16, but not yet melted.