Salt Creek Pass

This is an obscure dirt road crossing near Trout Creek Pass. But it does have at least one interesting characteristic. Together with other unpaved roads it can be used to detour the rumble strips and possibly heavy traffic on Trout Creek Pass. This route makes an almost out and back detour up the lowest slopes of the Buffalo Peaks and then merges back onto US285 slightly west of Antero Reservoir. Even though no topo maps, forest service maps or signs in the area give any indication, this is a named pass. It is included in Helmuth's book "Passes of Colorado". He sources the name back to James Grafton Roger's "list of geographic Colorado features".



click on profile for more detail

1.(7880ft,mile00) START-END EAST: US285 turns east towards Trout Creek Pass at Johnson Village
2.(8570ft,mile06) Shields Gulch dirt road on left connects with Midland Railroad Grade and Lenhardy Cutoff.
3.(8670ft,mile07) Mc Gee Gulch connects to same mtb routes as point 2. Profile goes right onto CR307 at same point.
4.(9030ft,mile09) dirt road crosses US285 and is now FR309
5.(9350ft,mile14) jct with FR311; profile continues straight
6.(9720ft,mile16) TOP
7.(9060ft,mile22) START-END WEST: jct US285 - FR436 Salt Creek Rd in South Park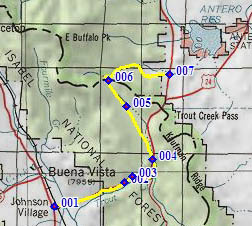 Approaches
From West. The profile uses much of US285 to Trout Creek Pass, since this is the most direct approach. When on a bicycle, especially during heavy weekend traffic other alternatives are much preferable. Some of these are the Midland Railroad Grade trail, or FR376 from Buena Vista. Other dirt road options exist south of US285. In any case, even if approaching on US285, once you reach the junction with FR309 (point 4), there is no more reason to endure the 6 inch shoulder of US285.

FR309 takes off on the right, and soon crosses over onto the other side of US285. This road heads straight for the Buffalo Peaks, with other Buena Vista approaches branching off to the left, the Lenhardy Cufoff s(u) and the FR311 Chubb Park s(u). On the right of the profiled route there is also an option that follows the historic railroad grade through Chubb Park to the historic summit of Trout Creek Pass. But the profiled route on FR309 continues its dead aim for the Buffalo Peaks, all the way to its own summit, where it meets FR436 on the other side of a cow gate and the route switches direction abruptly to the east. Continuing straight up FR436 leads further up the lower slopes of the Buffalo Peaks, and also connects with a hiking trail that is open to bicycles, connection with the Buffalo Meadows Road into the Arkansas Valley.

From East. (also described upwards) Just before US285 to Trout Creek Pass starts its short miniscule climb into a knoll of trees, the Salt Creek dirt road branches off to the right. It skirts along the forest. From here the far views of the higher peaks in the Mosquito Range are the best views on this side. The road soon enters the forest. As FR436 stays left at a junction, the road following Salt Creek further upstream stays right. There is also a nice designated mtb trail up the right fork.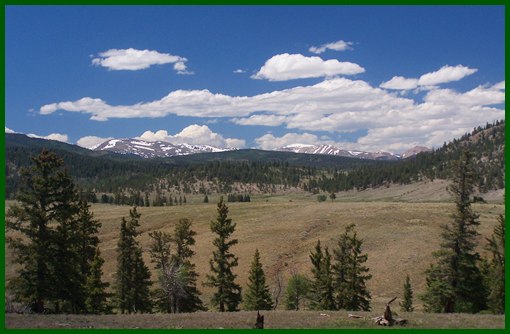 Dayrides with Salt Creek Pass as highest two way summit
PARTIALLY PAVED / UNPAVED / OUT AND BACK HIKE
Salt Creek Pass, Trout Creek Pass, additional out and back
: campsite near jct FR187- US285 (west of Trout Creek Pass ) > FR309 north > Salt Creek Pass <> out and back to end of FR436 towards Buffalo Peaks <> (out and back hike towards base of Buffalo Peaks) >> FR436 south > US285 west > Trout Creek Pass > back to starting point: 34.2 miles with 2930ft of climbing in 3:49hours (VDO MC1.0 m3:11.6.22)