Red Rocks Park - Trading Post Rd(sh)

This little shoulder summit is easily the scenic high point on a ride around Denver. It is crossed when following around the outside western perimeter of Red Rocks Park. It is located at the signed intersection: Trading Post Road - West Alameda Parkway. The profiled route follows the soutwestern most entrance to Red Rocks Park. Along the way on the south side there is a very small, but steep and beautiful climb between the rock monuments of the park.


1.(5570ft,mile00) START-END EAST 1 ALT: shore of Bear Creek Reservoir on north side.
2.(5750ft,mile03) START-END EAST 1: Morrison: jct Co26 to I70 - Bear Creek Canyon Rd
3.(5820ft,mile03) Red Rocks Trail Rd on right is another lower access to Red Rocks Park
4.(5840ft,mile04) profile turns right up Titans Rd, at entrance 3 to Red Rocks Park
5.(6250ft,mile04) small intermediate summit point
6.(6180ft,mile04) profile stays turns left on Trading Post Rd.
7.(6290ft,mile05) TOP: just before jct: Trading Post Rd - Red Rocks Loop Rd and dead end to upper access to amphitheater.
8.(6100ft,mile06) Red Rocks Loop Rd/ West Alameda Parkway terminates on Co93, across from road up Dinosaur Ridge.
9.(5750ft,mile07) START-END EAST - 2: Morrison: jct Co93 - Bear Creek Canyon Rd (same as point 2)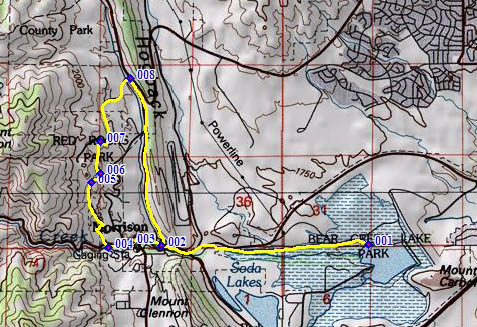 Approaches
From South. In order to start from a low point, the profile starts at a picnic area on the north east shore of Bear Creek Reservoir. From there the profile picks up the often cycled, low traffic road inside the park to Morrison. It then turns right at the Titan Road entrance to the park.
Soon there is choice to remain on Titan Rd on the left or turn onto Red Rocks Park Rd on the right. The profile follows the left fork. A few miniature switchbacks quickly climb up towards the amphitheater entrance. This feels like a summit at first. But after the next left turn onto Trading Post Road, the profile goes just a few feet higher. The highest point is at the jct with Red Rocks Loop Rd. From here it's a short out and back climb to the top entrance of the amphitheater, not to be missed on a first ride over this loop.

Another option is to stay right at the first fork (Red Rocks Park Rd) and then take the next left onto Trading Post Rd. This option often has less traffic and is not as steep. The option of not turning onto Trading Post Rd, and going straight instead, is profiled on the Red Rocks Loop Rd(sh) page.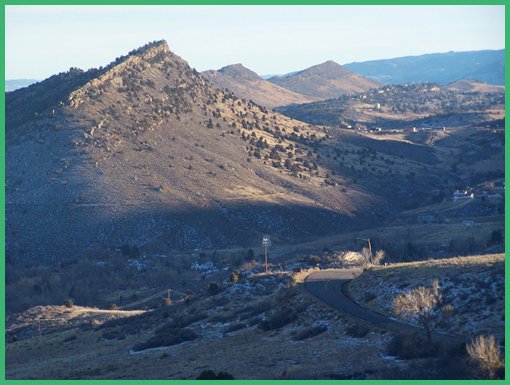 Front Range hogback from highest point on Trading Post Road, Red Rocks Park

From North. (described downwards). A short downhill roll ends abruptly at the junction with Co8. The profile turns right and just goes back down to Morrison. But the best way to continue after this small summit is to cross Co8 and ride over Dinosaur Ridge. That point is lower than the Red Rocks Park summit point. Even when turning left east of Dinosaur Ridge, and then crossing Rooney Road(sh), the Red Rocks Park shoulder summit stays the highest point, and Rooney Rd(sh) is just a shoulder point, ie the climb from the east side of Dinosaur Ridge to Rooney Rd(sh) is less than 300ft.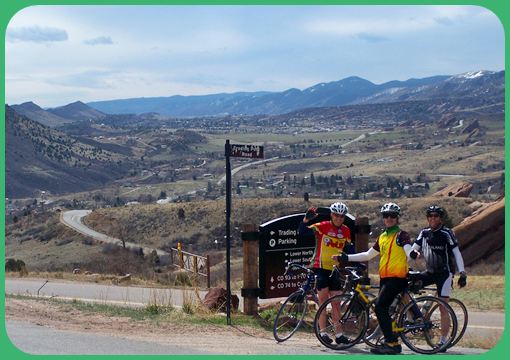 Denver Bicycle Touring Club on Trading Post Rd in Red Rocks Park