Hancock Pass

Hancock Pass is at the center of at least six Sawatch Range passes, approaching 12000 feet in top elevation. All can be crossed with a bicycle. On this pass a steep top makes for a fast transition from a dense forest to a dramatic alpine summit view. Both sides of the pass have rocky stretches that necessitate some walking. In spite of the roughness of this pass, the 14er Region Mountain Bike Guide ( a free publication available at local businesses ) has included both sides of the pass as recommended MTB routes since 1995.



click on profile for more detail
01.(mile00,7730ft) START-END ALTERNATE EAST: turnoff onto Co162 , south of Nathrop
02.(mile05,8190ft) START-END: Princeton Hot Springs
03.(mile16,10040ft) take left onto jeep road shortly before Saint Elmo
04.(mile21,11090ft) take right, signed for Hancock Pass. Route straight continues to Chalk Creek Pass.
05.(mile22,11160ft) Route to Williams Pass is on right, stay straight.
06.(mile24,12125ft) TOP: Hancock Pass
07.(mile25,11490ft) Tomichi Pass route joins from left. Continue towards right.
0 8.(mile25,11140ft) Williams Pass route joins from right. Continue on left branch.
0 9.(mile33,9660ft) Go left towards Pitkin
10.(mile36,9189ft) START-END WEST: Pitkin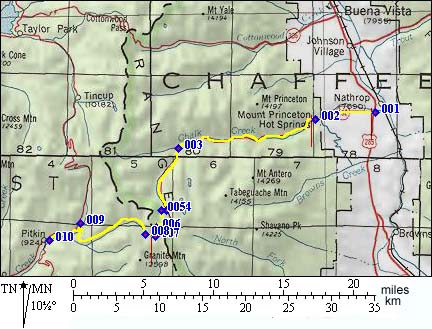 Approaches
From East. A large part of the approach to Hancock Pass is common to the approach to Chalk Creek Pass, Tincup Pass and Williams Pass. A smooth dirt road leads towards the attractive old settlement of Saint Elmo. The route continues south up Chalk Creek past the site of the old mining settlements Elmo and Hancock. Here the route turns west and begins a steep two mile climb to the summit, where it opens up a dramatic summit view onto Tomichi Pass. This last stretch is only about two miles long but contains 90 percent of the rocks and gains a thousand feet. The top half mile is so rocky and steep that bicycling becomes a different set of exercises, consisting of getting on and off the bike for some, just plain walking for others, and falling on their faces for a select few.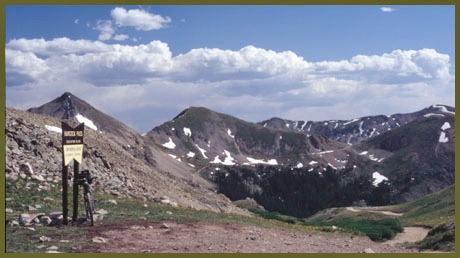 From West. The approach to Hancock Pass, Tomichi Pass and Willliams Pass pass follows a good dirt road paralleling Quartz Creek. It is at the junction of Williams with Hancock and Tomichi Pass that the ridability of the route takes a nosedive. Leading up between Mount Chapman (12756 ft) and Van Wirt Mountain (13025ft), a trail much to steep and rocky to bike, climbs to the summit. The single mile of distance on the profile hides the true amount of time that is invested in this part of the climb. Halfways to the top, the rocks subside. But now it is just too plain steep. Then at the very top the trail is quite rideable. At this point the only thing missing may be enough energy left in the tank. Along the way it is impossible to miss the impressive views of Tomichi Pass slicing across Paywell Mountain, on the other side of the valley in Silver Brittle Basin.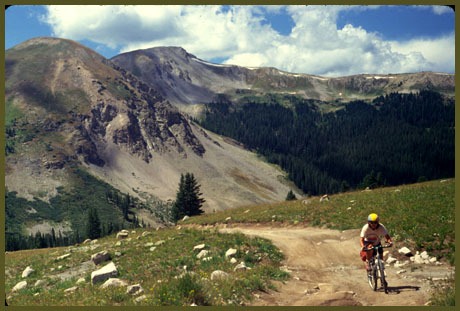 Dayride with this pass as highest summit:

Hancock Pass , Williams Pass : Hecla Jct area > Princeton Hot Springs > Hancock > Williams Pass > Hancock Pass > back to starting point: 69.3miles with 6890ft of climbing in 7.56hrs (Cateye100AT m3:5.7.6)
Notes: starting from Mount Princetn Hot Springs would be 23 miles less, and not much climbing less

Two Day Tour. A group ride starting near Mount Princeton Hot Springs, crossing over Tincup Pass and Cumberland Pass to Pitkin measuered 39 miles. The next day the return to the starting point over Hancock Pass measured 36 miles (m3:93.08.14-15).
History

Hancock pass has sometimes been confused with Williams pass. The fact that Hancock Pass has been called "New Williams Pass" only adds to the confusion. The name "New Williams Pass" can be justified by the fact that the two pass routes only differ in a short top section. At least the difference appears short on the map, in comparison to a traversal of the entire profile. Even though Williams Pass is lower, swampy conditions at the top often make it impassable, prompting the search of a different nearby crossing.

Trail conditions conspire to favor Hancock Pass over Williams Pass for much of the summer and fall. Yet Williams Pass is the more historic crossing. The earliest regular use of Hancock Pass was around 1888 as a mining route. At this time the Arkansas Valley already had two railroads. Williams Pass was 8 years old, and the reason that Williams Pass existed - namely the alpine tunnel, was already decommissioned for five years. An official name for the impromptu crossing was accepted by the USGS in 1962.