Gore Pass
When you say "Gore Range", the image that often comes to most minds is one of vertical peaks, lower than 14000 feet, but more rugged than many that high. The reason is because most people see the Gore Range as they emerge from the west side of Eisenhower Tunnel, or if cycling, from the top of
Loveland Pass
. But there is also a Gore Pass through the range of the same name, more than 30 miles to the north, and it presents a very different picture.
This is not really the pass with spectacular scenery. Instead it's an area for those who like to be alone in the forest - by themselves or in company. This area will never run out of comfortable camping spots in the woods, unless the woods disappear.


click on profile for more detail

1.(7360ft,mile00) START-END EAST: Kremmling
2.(7560ft,mile07) START-END ALTERNATE: turn left from US40 onto Co134
3.(9527ft,mile18) TOP: Gore Pass, campground is on left.
4.(9100ft,mile20) dirtroad on left connects with Trough Road Pass
5.(8260ft,mile34) START-END WEST: junction with Co131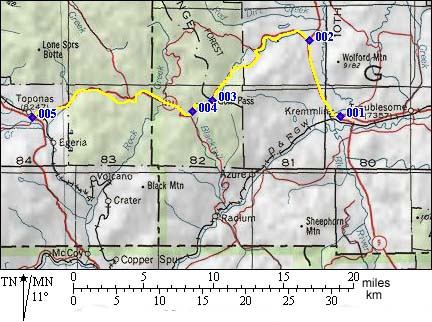 Approaches
From East. Gore Pass rises out of the sagey highlands of Middle Park into a cool pine forest, or at least that's what it used to be before the pine beetle got a hold of it. There are no interesting views along the way on this side, except maybe for the sign advertising cowboy boots ranging from 39.99 dollars to 799 dollars for sale at the FM Light store. A few houses along the way make a deserted impression.

The road on top of the pass resembles an arrow through the forest. There is a pass sign, and opposite that in between two piles of pine beetle kill, a stone with a plaque, mentioning the gastly deeds of Mr Gore the Irish game hunter for whom this pass and range are named, and Jim Bridger wh o guided him

From West. (described downwards). I like this side better. But maybe that's because during my last ride over this pass it was very hot, and this was the way down. Also, while the bike rolls along on its own, there are two quick, reminding far views of high peaks to the north. After a few hundred feet descend, the road levels out and traverses a long high park area. A place like this can even make a tree killed by pine beetles look picturesque (picture below). From here a spectacular descend on FR212 into Gore Canyon on a dirt road (which is part of the Great Divide Bicycle Route) is possible.
The Gore Pass Road has one more climb that is definitely noticable, It has enough climbing on both sides that I count it as a separate summit. But it too stays in the forest. Descending into Tonopas, the forest turns into a sage landscape. Turning back during a late June afternoon may present a cloudscape above the mountains that are left behind, that is as spectacular as many mountain skylines.

This may feel like the end of the pass ride, but looking at the profile, the majority of the descend is actually still ahead when turning left at Tonopas (no services available here) and riding on to Bond (ditto about the services) towards the Colorado River and State Bridge (There may be some services here if there is a rock concert going on, but I wouldn't count on it). This stretch also has another small climb with a great far view west to the Flattops. Turning right in Toponas instead also descends from this high sage plateau, but not nearly as much.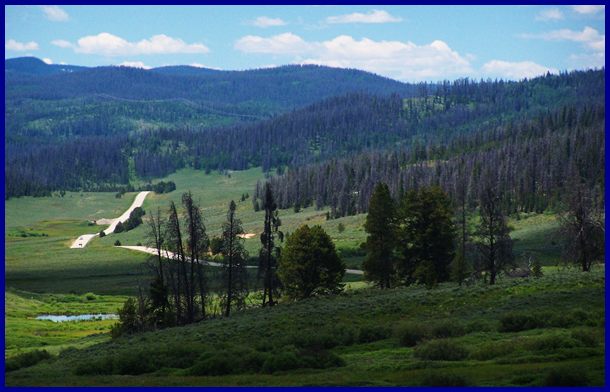 Dayride with this point as highest summit

PARTIALLY PAVED / UNPAVED:

Gore Pass , Trough Road Pass : 381rd north of Green Mtn Reservoir > Co9 north > CR1 west > Trough Road Pass > Radium > up FR111 > FR212 Radium - Toponas(shp) > Co134 east > Gore Pass > Kremmling > Co9 south > back to starting point on 381rd: 51.8miles with 5160ft of climbing in 4.62dec_hrs (Avocet50 or Cateye: m2:98.9.20)

A day on a Three Day Tour with this point as highest summit

Three Day Road Tour. A supported camping tour, done by the Denver Bicycle Touring Club in past decades, went like this: Day 1: Steamboat Springs to a campsite on top of Gore Pass, 50 miles measured distance. Day 2: Gore Pass to a campsite near Granby, 52 miles. Day 3: Granby over Willow Creek Pass, a shoulder of Muddy Pass leading to Rabbit Ears Pass back to Steamboat Springs, 90 miles. All mileages were measured with a now antique, Schwinn approved, pinwheel driven odometer, guaranteed to be accurate to within aproximately 15 percent, when not going too fast for a misfunction to occur (r1:83.09.03).

A later modified motel version of this DBTC tour went as follows: Day 1: Kremmling > Rabbit Ears Pass > Steamboat. Day 2: a dayride to the Hahn's Peak area and returning to Steamboat. Day 3: Steamboat Springs > Gore Pass > Kremmling. The distances measured 62, 78 and 79 miles (m1:88.09.03-05)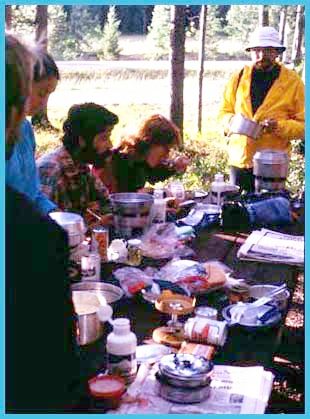 History

Gore Pass has been a essential crossing on the route west to Salt Lake City, since these routes have been pioneered. The more difficult part of this passage were the passes over the front range, and those changed between Berthoud Pass and Rollins Pass.

The Civil War Years (<Berthoud Pass | Yellowjacket Pass>) : A number of passes in Colorado received attention because of the impending civil war in 1861. Fear of isolation as well as business reasons drove Edward Berthoud and Jim Bridger to explore a route suitable for stage traffic between Denver and Salt Lake City. Berhoud was participating in this as a supporter of Denver business interestes and Jim Bridger was pulled out of retirement by the COC, the Central Overland and California Pikes Peak Express Company.

After Berthoud discovered today's Berthoud Pass, Jim Bridger wholeheartedly endorsed the idea of using it for a stage route to Salt Lake. The mining engineer Berthoud and the legendary trailfinder Bridger spent a summer riding old Indian trails to come up with the rest of the proposed route. From Berthoud Pass the route entered middle Park. It left middle park over Gore Pass, then followed US40 to today's Craig From there it went south over Yellowjacket Pass (parallel to the Co13 Nine Mile Gap Summit) to Meeker, from where Route64 leads to Salt Lake City.
However, in the end nothing became of the planned stage route. It did abandon the Indian attack plagued South Pass route. Resources to handle such difficulties were withdrawn for the impending hostilities with the south. But rater than run the new mail and stage route through Colorado, it only was shifted to south as far as Bridger Pass in Wyoming.

Historic Touristic Routes (<Rollins Pass): But in 1861 some mail was carried over Gore Pass en route from the Missouri to California. But it took till 1865 till another Denver promoter, Bela M Hughes surveyed a route from Salt Lake City to Denver over Gore Pass. Again the main problem of the project was not Gore Pass but Berthoud Pass. Faced with great difficulties of getting their wagons up Frazier Creek towards Berthoud Pass, they instead pioneered a new route over Boulder Pass, also know as Rollins Pass. Instead it took till 1874 till the exisiting trail over Gore Pass was turned itn an improved wagon road.. A road over Rollins (Boulder) Pass, connecting to Denver, was already a year in existence. Now no more high mountain passes stood in the way of a new stage road between Denver and Salt Lake City. The road was first opened in 1865 and in 1867 it became a toll road. In 1872 a piioneer built a house on top.

Railroads: No railroad ever crossed Gore Pass. But it would have been feasible, if parts of Wyoming were not so darn flat. In 1880 the Denver Utah and Pacific Railroad proposed a narrow gauge railway over the top, and in 1881 the Denver Rio Grand also surveyed the pass. But nothing became of it.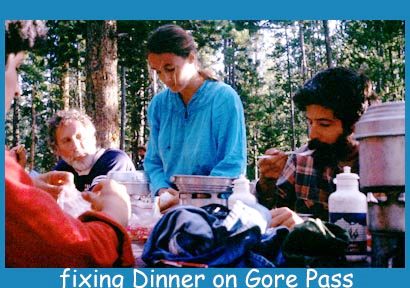 The Name: At times it was also called Elkhorn Pass, and where the name "Gore" came originally came from is disputed. But one story is so colorful that the others pale in comparison, and that's the one that lives in the mind of tourists. Today the name Gore stands for the hunting exploits of an Irish man, who probably only saw the high peaks of the Gore Range from a distance. He showed up in Fort Laramie in 1853 and killed as much game as humanly possible in Colorado as far north as Muddy Pass, and maybe some distance north of that till the winter of 1854/55. Game in Wyoming and Montana east of the Big Horn Mountains also were not safe from his exploits. Marshall Sprague in his book "the great Gates" tells how, at the end of his "hunting season" he agreed to sell his equipment (at one time including twenty one carts of champagne, six wagons plus fourteen dogs and 114 horses) to the American Fur Company, but then burned it all in a fit of temper over the price.

Compared to that story, Henry Gannett's explanation, that the pass is named after a Denver Goldsmith can barely compete, even if it is by some as highly respectable, as a member of the Hayden Survey. And then there is the description "gore" which can also apply to the wedge shaped landform of Gore Canyon.

Cycling-Ride the Rockies: (<North La Veta Pass|Hoosier Pass>): Between 1986 and 2005 the pass saw the riders of the Denver Post's "Ride the Rockies" only once during 04 on a stage between Granby and Steamboat Springs.
Gore Pass (Summary)

Elevation: 9527ft



Eastern Approach:

climb

distance

drop

from Kremmling (7360ft)

2167 ft

17+1/2 miles

~100ft

from junction US40, Co134 (7560ft)

1967 ft

13 miles



Western Approach:







from junction Co131, Co134 (8260ft)

1267 ft

14 miles

~500ft


--------

--------