FR766 Fairview Mine s(u)

This little used hiking (and now biking) summit is roughly a parallel crossing to
Cumberland Pass
in the Sawatch Range. One side is a forest road branching off the southern side of Cumberland Pass. The other approach can either start at Taylor Reservoir or Pitkin. I took the Taylor Reservoir option and that is what's described. No matter where you start, the route includes no less than 6 miles of mostly hiking, often over rocky steeply ascending trails. The reward is a rarely visited pass with good views of the surrounding peaks. There are no signs forbidding two wheeled vehicles along this route.


click on profile for more detail

1.(9380ft,mile00) START-END NORTH: southern end of Taylor Reseroir. Dirt road branches off FR742, signed Union Park
2.(9430ft,mile01) route turns right onto FR752, signed Union Park
3.(10070ft,mile02) intermediate summit
4.(9870ft,mile03) profile stays right
5.(9720ft,mile04) route goes right to go around west side of Union Park
6.(9580ft,mile05) Union Park cow camp. Begin Gold Creek Trail shortly thereafter
7.(10090ft,mile08) jct with Cameron Creek Trail; profile continues left on Gold Creek Trail
8.(11620ft,mile12) intermediate summit point; Cameron Creek Trail rejoins route on Shaw Ridge. Profile between here and summit is an approximation
9.(11180ft,mile13) Profile turns left onto a trail labeled "Fairview Peak"
10.(11620ft,mile14) intermediate summit point
11.(12010ft,mile16) TOP
12.(11950ft,mile16) Fairview Mine
13.(10050ft.mile21) START-END SOUTH: FR766 joins Cumberland Pass Rd and turns downhill to the right
14.(9200ft,mile26) Pitkin
15.(8590ft,mile33) Ohio City
16.(7960ft,mile42) START-END SOUTH ALTERNATE: Parlin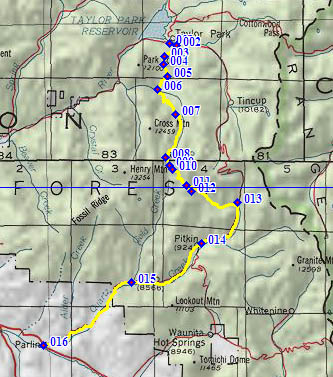 Approaches
From North. The profile starts at the south end of Taylor Reservoir and follows a dirt road signed "Union Park". It follows Willow Creek, but on the opposite side as the road Tincup. Otherwise the route the Tincup road and soon turns up FR752 with the first steep "wake up" climb. The first of many nice views of the Collegiate Peaks can be seen turning to the back. Shortly after the first intermediate summit the sage plain of Union Park appears as foreground to a set of rarely visited peaks in the Sawatch Range. The route follows around the west edge of Union Park, crosses several gates at the Union cow camp, where the route designation changes to Gold Creek Trail. However this is still an easily rideable double track trail. Past the junction with the Cameron Creek Trail, the route descends a short distance and crosses some Gold Creek Puddles filled with wading cows and whatever they secrete. From here on the route is a mosquito hell, at least in June, lasting at least up to the top of Shaw Ridge.
The next 7 miles to the summit go by very slowly. Several miles up Gold Creek the route becomes a barely rideable trail that climbs steeply to Shaw Ridge. At last it deviates from the creek offering some relief from the mosquitoes. At this first top the trail rejoins with Cameron Creek Trail, which has traversed a higher altitude to get to this point. Here you cross a cow gate and after a short descend on a double track trail, a sign pointing left offers a trail to Fairview Mtn. If you keep going straight here you end up in Pitkin or Ohio City, which is an alternate approach to this point.
The trail from here to Fairview Mtn. is not shown on my topo maps. A hiking trail with short rideable stretches climbs to a low shoulder on Fairview Mtn, maybe a hundred feet above treeline. From here the trail traverses across the north side of Fairview Mtn, descending a bit to go through trees. Then it climbs steeply to the saddle, 50 feet above and half a mile southwest of the Fairview Mine.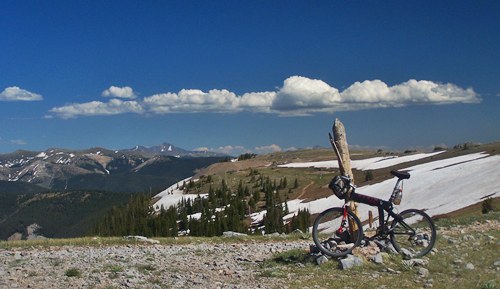 view east from above the Fairview Mine
From South. (described downwards). The traverse over to the mine can still be completely snow covered, even if the rest of the route is completely snow free. This is not a problem. It's easier just to go cross tundra and pick up the clearly visible forest road below the mine. Steep and rocky FR766 joins with several other tracks descending from the mountains and becomes rideable after a mile or so. Several miles later it becomes a lightning fast, enjoyable descend.
At the jct with FR766.1B is a last chance to turn around and take in a great view of the ridge you have just descended. The road merges onto the Cumberland Pass Road. There is no sign at this intersection. Coming the other way this junction can be easily mistaken for another small forest road. The profile continues all the way down Cumberland Pass Road to its beginning in Parlin.



left: the main spine of the Sawatch Range from the FR766 summit
right: past Shaw Ridge the trail emerges above treeline and contours along Fairview Mountain
A Dayride with this point as intermediate summit is on page: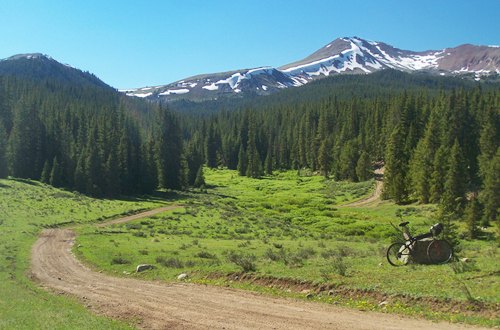 Last view back up FR766 towards the Fairview Mine summit,
before descending to the Cumberland Pass Rd