FR359 summit(u): Eastern San Juan Mtns

Seen from US160 between South Fork and Del Norte, the Eastern San Juan Mtns don't show themselves from their most interesting side. That's okay, the majority of people just want to drive the road anyway. The mountains on the south side of the highway give the appearance of a large lumpy loaf of bread. Traveling over this summit shows off a more interesting side. There are peaks on top of them hills. Granted, they are rounded too. But the panorama of the isolated La Garita Peaks also awaits. Most of this area is open to motorized travel, no wilderness here, not since the various gold silver and medal rushes and busts. But the mountains survived, and now -paradoxically- there are so many roads that traffic is actually very light. This makes a great mountain biking loop.



click on profile for more detail

01.(8150ft,mile00) START-END EAST: jct Del Norte Peak Road (FR345) - US160, east of Del Norte.
02.(9220ft,mile03) route stays right onto FR350
03.(11053ft,mile09) This profile stays right.
04.(11410ft,mile10) FR350 shoulder summit
05.(11090ft,mile11) road on right goes down Cross Creek. This is the direct approach to FR350 summit(u) from west.
06.(11480ft,mile13) TOP: FR359 summit(u).
07.(10910ft,mile14) jct with FR332. Left goes to Crystal Lakes. This profile stays right.
08.(10450ft,mile16) Profile turns right down FR360 along Beaver Creek.
09.(9330ft,mile32) Road along Cross Creek joins from right. Connects to point 5.
10.(8260ft,mile29) START-END WEST: jct US160 - Beaver Creek Rd, just west of South Fork.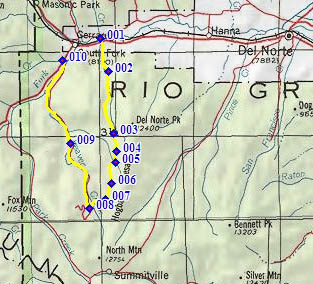 Approaches
From East. The turnoff from US160 up Del Norte Peak Road is signed. The wide dirt road goes through a burn area, with a single rounded mountain visible above slopes of trees. This route will stay well to the right of rounded Del Norte Peak. At the next fork, the route turns onto signed FR350 uphill. The road soon looses its gravel and enters a firewood cutting area. Staying in the forest and narrowing still further, the road stays steep, not too rocky and rideable. The first time any mountains can be glimpsed through the trees is on top of the FR350 summit (this is only an intermediate summit on this ride). An out and back trail leaves from the forested top.

FR350 crosses a grazing divide and descends to the junction with the Cross Creek Road. Now the route follows FR359. Once on top of the FR359 summit(u), the panarorama of the high La Garita Peaks reveals itself in all its splendor. The range contains one peak higher than 14000ft, It requires a long day hike to reach it, but it is not a steep climb.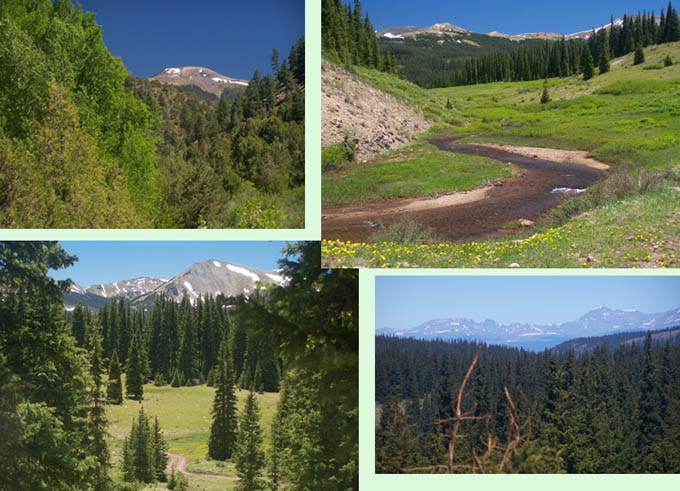 From West. (described downwards) For the FR359 mountain biker the best part of the ride starts. A short steep descend leads to a series of alpine meadows, FR359 traverses them, like a ribbon that has been thrown out over a carpet of wild flowers (if you ride in June). There are fewer rocks on this section of the trail. After that high point, FR359 merges onto well traveled FR332 from Crystal Lakes, then graveled FR360, which is a long roll back down to South Fork. Once Beaver Creek Reservoir is reached, camping is only possible in developed pay sites. The last few miles before South Fork are paved.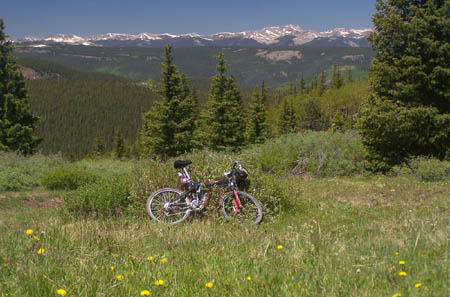 Dayride.

PARTIALLY PAVED / UNPAVED

FR359 San Juan Mtns s(u) , FR350 s(u): campsite on Del Norte Peak Road > up FR345 > FR350 s(u) > FR359 San Juan Mtns s(u) > down FR332 > down FR360 > South Fork > US160 east > back to starting point on del Norte Peak Road: 38 miles with 3900ft of climbing in 4:2hours (VDO MC1.0 m3:10.6.19).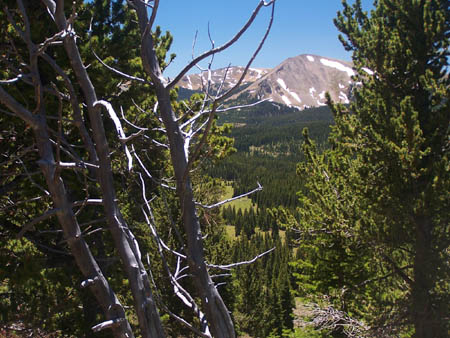 Pictures: top panel clockwise, starting top left: Del Norte Peak from lower Del Norte Peak Rd., jct FR359 - FR332 between point 6 and 7, FR359 west of summit, near FR350 s(u).
middle picture: La Garita Mtns from FR359 summit, bottom pic: west of FR359 summit