FR250 Rock Creek s(u)

The Gore Range has two different faces. One face is that of Mount Powell and Eagle's Nest Peak, two great peaks most people think of when they hear the name "Gore Range". But a much larger area of the Gore Range looks more like the Adirondacks of New York for example, assuming that the pine beetle has devastated that area to the same extend. Much of the northern part of the range are tree covered rounded hills, especially the area around Gore Pass. That being said, this is actually the only road in that area, that still allows for a few far views from the summit, to remind you of the fact that this is Colorado.


01.(mile00.0,6930ft) START-END EAST: Radium: bridge over Colorado River
02.(mile03.8,7630ft)jct with dead end road to railroad tracks in valley
03.(11.2mile,9113ft)FR212 Radium - Toponas(shp)
04.(13.4mile,9030ft)profile turns left on Co134, coming down from Gore Pass
05.(mile15.4,8770ft)profile turns right onto FR250 along Rock Creek
06.(mile24.4,10110ft)TOP: FR250 Rock Creek s(u)
07.(mile26.6,9610ft)profile stays right on FR19
08.(mile33.0,7870ft)profile turns left down CO134 from Gore Pass
09.(mile37.1,7550ft)START-END WEST: jct Co134 - US40, north of Kremmling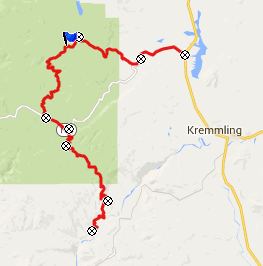 Approaches

From West. In the profile I decided to make this climb as big as possible and start at the Colorado River in Gore Canyon on another dirt road.. This lower part of the route is described on the FR212 Radium - Toponas Rd(sh) page. After that the profile turns down the western approach of the Gore Pass Road for a short distance before reaching the start of FR250.

FR250 diverts from the Gore Pass Road in a large flat meadow section, a few hundred feet below its summit. The turnoff is signed. The road climbs through a small shallow valley, surrounded by pine beetle territory. Approaching the top, there are views reaching to Mount Powell to the north and the Flattops to the east.
From East. After a pleasant roll through the forest, descending a few hundred feet, the road meets FR100. Turning left here allows staying at this high, still relatively cool altitude all the way to Rabbit Ears Pass. But the profile takes the direct way down, turning right. This road is a little more gravelly than the other side. 500ft above the jct with the Gore Pass Rd, the trees give way and reveal a drier badrock landscape with interspersed houses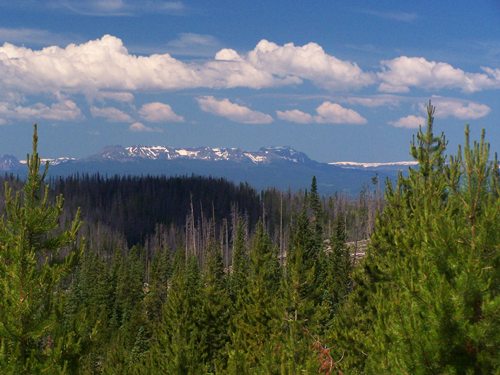 Dayride with this point as highest summit

PARTIALLY PAVED / UNPAVED:
( < FR212 Radium - Tonopas(sh) | Co134 Tonopas s(u) > )
FR250 Rock Creek s(u) , Gore Pass , additional out and back : FR250 > up FR250 > FR250 Rock Creek s(u) <> out and back ~14miles both ways on FR100 north >> FR100 south > Co134 west > Gore Pass > back to starting point on FR250: 48.3miles with 4280ft of climbing in 4:23hrs (Garmin etrex 30 m5:15.6.28).