Co145 Alta Lakes turnoff(sh)

If you have come down the north side of Lizard Head Pass towards Telluride, you probably remember a very noticeable uphill, on what is supposed to be a long descend. That happens to be also the place where a dirt road turns up towards Alta and its lakes. With the help of a different, smooth dirt road this spot is the summit point on a short scenic loop.



click on profile for more detail

1.(7290ft,mile00) START-END WEST 1: jct Co62 from Dallas Divide and Co145
2.(7460ft,mile03) Fall Creek Road turns off on right
3.(7770ft,mile06) Vanadium site and turnoff for road following Big Bear Creek on right
4.(8070ft,mile11) START-END WEST 1 ALT: Profile turns right towards Vance Junction and Illium
5.(9180ft,mile19) Profile turns left onto Co145 from Lizard Head Pass
6.(9680ft,mile21) TOP
7.(8670ft,mile26) turnoff on left to Telluride
8.(8070ft,mile29) START-END WEST 2: same as point 4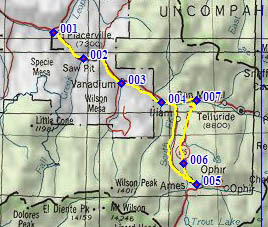 Approaches
From West 1. Co145 between between its junction with the Dallas Divide Road (Co62) and Telluride can be a stressful ride, due to heavy traffic and the absence of a shoulder, in spite of the peaceful canyon surroundings. If you don't mind riding on an extremely smooth dirt road, peace returns to the valley, when you take the turnoff onto FR623. The road is known by different names, Vance, South Fork and Illium all apply to this stretch. The road passes a police department or something of that nature, then a mining operation, but after that it's really just the South Fork of the San Miguel River with Sunshine Mountain and Wilson Peak showing the way. The road crosses in and out of national forest land several times. There is no camping allowed along this road. Finally it turns east and climbs very steeply to join Co145. One could keep following South Fork and ride up towards Ophir Pass. But to get to this summit point the route turns left and keeps climbing a little more, while on the descend from Lizard Head Pass. At the highest point a signed dirt road turnoff shows the way to Alta Lakes s(u). That summit can be cycled in an out and back ride, or a loop incorporating trails from the Telluride ski area.

From West 2. (described downwards). It's a fast paved descend. Even from this low, there is one especially memorable view of the wall of peaks behind Telluride, with a swoop of road in the foreground. The profile ends where it joins the other approach.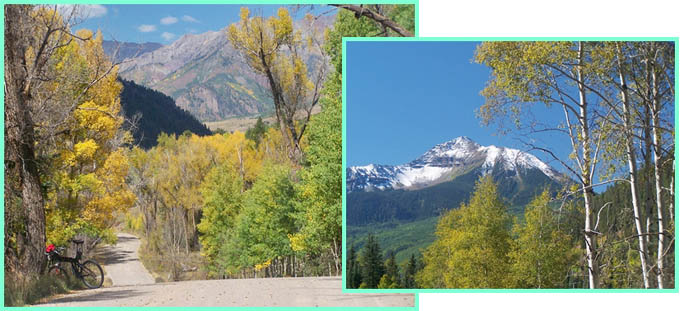 Dayride

PARTIALLY PAVED / UNPAVED

Co145 Alta Lakes turnoff(sh) , additional out and backs : 5 miles up Fall Creek Rd > down Fall Creek Rd > east on Co145 > south on FR623 South Fork > Vance Junction > north on Co145 <> out and back to Alta Lakes >> down Co145 <> out and back to Telluride >> west on Co145 > back to starting point: 60.9miles with 5080ft of climbing in 5:37hours (VDO MC1.0 m3:11.9.20).