CR45 Dry Mountain Road s(u)


Moffat County in north western Colorado is really a gravel biker's paradise, provided you don't picture paradise with bike stores, bars and gathering places. This is pure semi-dessert with a dense network of "gravel" roads, many much smoother than that label would lead to suspect. My favorite area in this county sofar, is the mesas around Little Snake River. This road is well west of there.


1.START-END SOUTH-1:jct CO318 - CR67
2.profile turns left onto CR48
3.profile turns left onto CR46
4.TOP,7080ft
5.profile turns left onto CR318
6.START-END SOUTH-2: same as point 1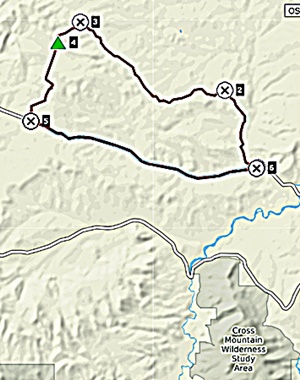 Approaches

From North. CR67 is signed as the principal wild horse viewing road in the Sand Creek Basin wild horse management area. A name like "Sand Creek Basin" usually means nothing good for tires less than 3 inches wide. But the road has a great hard surface for riding many types of bikes.

The profile makes a left turn onto CR46. The major landform in the distance is a big subdued wedge by the name of Vermillion Bluffs. It makes the background in the view to some apparently very relaxed wild horses in this area, often alone in the scenery, as apposed to groups of 4 or 5, as in yesterday's ride.

The last part of this small climb, before the jct with CR45 actually feels like a real climb. CR46 itself crests on a well defined low ridge with a group of burned trees crowning the top.

From South. (described downwards) Ahead of here is a ruler straight section of road with a big dip. the "Big Dip" is actually a geologically structural basin, named Sheephead Basin. It looks like the next high point after this high meadow might actually be a little higher. But the map confirms that the initial crest of the ridge is the true summit. This dip is the most sandy part of the trip. Especially the low parts of this basin have faceplant written all over them. The road descends quickly through more burned trees to paved Co318. The profile continues on Co318 down the gentle valley back to the starting point of the other approach.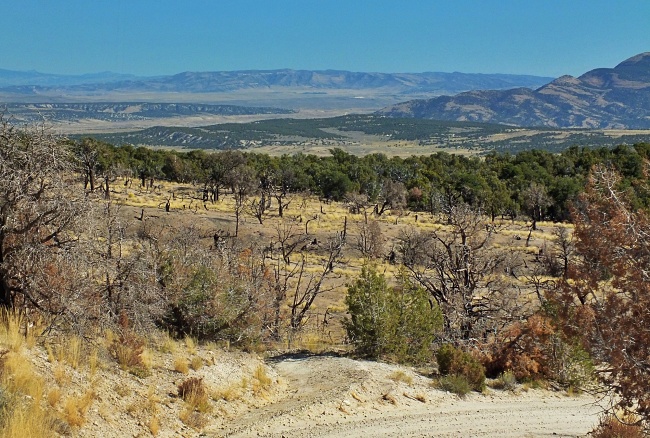 Dayride with this point as highest summit
PARTIALLY PAVED / UNPAVED:
( <
CR71 Godiva Rim
|
Yellowjacket Pass (Meeker)
> )
CR45 Dry Mtn Rd s(u) :
CR71 a short distance from its jct with CR21 > down CR71 > Co318 west > CR67 north > CR48 west > jct CR48 - CR45 <> out and back on CR45 north > CR46 west > turnaround point before jct with CR52 >> CR45 Dry Mtn Rd south > CR45 Dry Mtn Rd s(u) > Co318 east > back to startingpoint on CR71: 52.9miles with 2890ft of climbing in 4:50hrs (garmin etrex30 m3:20.9.30).
Notes: still and again toooo hot