CR260 Brush Hollow Rd - CR271 (sh)

This is one of several summit points north of
Hardscrabble Pass
, that connect the Westcliff area with the Canyon City area, traversing through the Wet Mountains and the De Weese Plateau.


click on profile for more detail

01.(7840ft,mile00) START-END WEST: Westcliff
02.(8470ft,mile07) profile turns left onto CR260 Brush Hollow Rd
03.(8160ft,mile09) intermediate low point
04.(8860ft,mile13) TOP: jct with CR271; profile stays left at following intersection
05.(8149ft,mile20) profile stays right at this and next intersection
06.(7800ft,mile24) jct with dead end roat to Bear Gulch Rd, and beginning of Oak Creek Canyon
07.(6700ft,mile29) intermediate low point, "winter tires required for next climb"
08.(6920ft,mile30) intermediate high point
09.(6030ft,mile33) profile stays right at this and next intersection
10.(5470ft,mile39) Rockvale
11.(5200ft,mile43) START-END EAST: Florence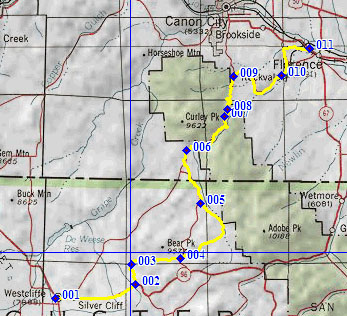 Approaches
From West. Climbing towards Hardscrabble Pass from Westcliff, CR260 turns off on the left and descends a little again, traversing north along vacation housing, all of which has pretty nice views of the Sangre de Cristo Range. A few short sections of this road have extreme wasboard surface. Brush Hollow then turns west and reaches a high point at the intersection with CR271. Looking to the right you can already see the intersection with the Hardscrabble Pass Road

From East. However the profile descends from here. Choosing the downhill route whenever possible at the following intersections, the route leads through a sparsely populated ranch valley following CR271 along Bear Gulch and then joining CR143 along Oak Creek. You could also follow CR143 all the way between the Wet Mountain Valley and Canyon City over a different summit point. Both routes descend along Oak Creek and then mount a small 100 ft climb, to what may be the scenically most interesting point along the route. From here the Stultz ATV trail also descends through a canyon towards the east. The road followed by the profile winds down in a few serpentines to arrive at a fork, presenting options for Canyon City or Florence. The profile continues into Canyon City. But choosing the descend through the funky town of Rockvale to Florence also its own peculiar charm.


A Dayride with this point as intermediate summit is on the Hardscrabble Pass page.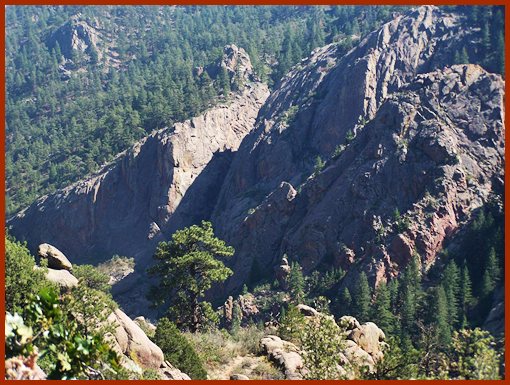 The Stultz Trail descends into a canyon from the Oak Creek Road