CR14 Deer Valley Rd via CR157

Unpaved and remote Deer Valley Rd can be used to approach the Dinosaur Canyon area from the east. Together with CR157 (the obvious route for Dinosaur bound travelers from the east) it makes a small shoulder summit, climbing over Blue Mountain, which rises above the upper Yampa bench. This is the lowest of the shoulder summits along CR157 on the way to Dinosaur NM.


1.START-END EAST: jct Deer Valley Rd - US40
2.TOP: 6930ft Deer Valley Rd via CR157(sh)
3.profile turns from Deer Valley Rd onto CR157
4.START-END WEST: jct CR157 - US40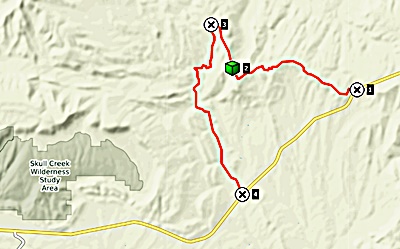 Approaches

From East. Deer Park consists of a mining waste water dump and an array of tourist-trap ruins and trailers, in a very advanced state of decay. Deer Valley Road starts here and it is clearly signed. This lower part of the road contains only one or two places, where the road touches a rim and offers a far view other distant cliffs, adjacent to the complex of canyons carved by the Yampa river.

There are 2 short sandy stretches. Otherwise the road surface was perfect for my Klein Mantra, and I would guess most gravel bikes feel at home here too. The route reaches a high point immediately before the signed turn off down CR157

From South. (described downwards) This is a fast decent through grassy hills. Only once does the road cross a small ravine, and the result is rough rocks and deep ruts. After a left onto CR16, this is now a elaborately engineered gravel road with too many small rocks, to make for a perfect cycling surface. But it all works out in the end, and the road joins pavement on US40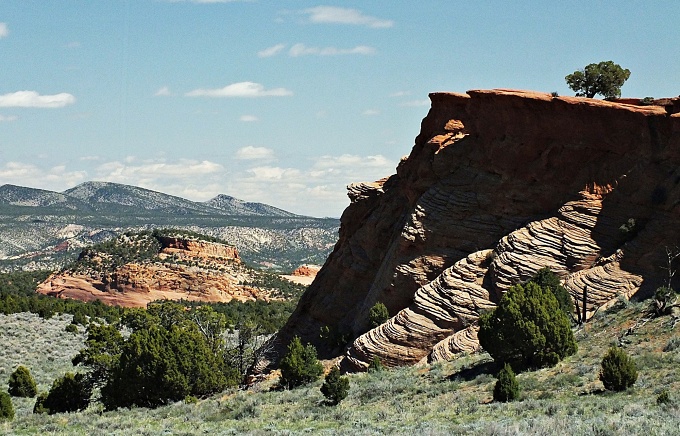 Dayride with this point as highest summit
PARTIALLY PAVED / UNPAVED
( <
CR14N Mantle Ranch Rd(sh)
|
Harper's Corner Rd s(u)
> )

CR14 Deer Valley Rd via CR157(sh) :
about 4+1/2 miles up Deer Valley Rd > up Deer Valley Rd > CR14 Deer Valley Rd via CR157(sh) > down CR157 > down CR16 > US40 east > back up CR14 Deer Valley Rd to starting point : 30.6miles with 2400ft of climbing in 3:04hrs (garmin etrex30 m3:20.5.10).
Notes: short ride for a hot day.