Dead Indian Pass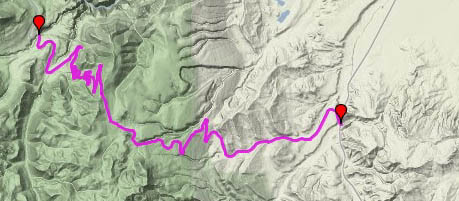 Dead Indian Pass runs in an east westerly direction, south of
Beartooth Pass
. The proximity makes the difference between these two passes even more amazing. While Beartooth Pass crosses the "hard rock" Beartooth Plateau, Dead Indian Pass crosses the colorful, volcanic Absaroka mountains, containing spires and interesting erosional features. You rarely see the name "Dead Indian Pass" anymore. Instead the more refined name "Chief Joseph Highway" is used on road signs. Regardless, both names commemorate not the same Indian, but the same set of events, the time when Chief Joseph and his Nez Perce Indians were hunted halfways across the continent because they could not live in the reservation, deemed suitable by the government. A detailed set of signs on the summit inform about the battles fought and a dead Indian left behind by the Nez Perce.

01.(mile00,5580ft) START-END WEST: Chief Joseph Highway crossing Basin Creek
02.(mile01,6240ft) intermediate high point
03.(mile02,6070ft) START-END WEST ALTERNATE: Chief Joseph Highway crossing Indian Creek
04.(mile10,8048ft) Dead Indian Pass
05.(mile23,4990ft) START-END EAST: jct Mo120 - Chief Joseph Highway
Approaches
From West. Chief Joseph highway begins where either Colter Pass or Beartooth Pass ends. Following the valley of Clark's Fork of the Yellowstone south, Pilot Peak (11708ft) is the scenic background to a pastoral foreground for many miles. Pilot Peak is true to its name. It is the outstanding visual feature of all three pass approaches that converge here. This side of the approach contains ample rolling hills before the pass proper even begins to start. It does so only after crossing Clark's Fork of the Yellowstone and climbing high above the deep canyon.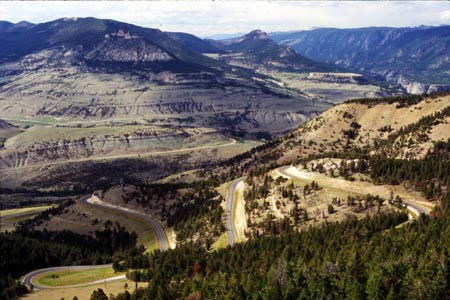 From East. The pass starts to climb steeply right in the beginning. Far flung switchbacks lead through colorful sedimentary rocks to ever vaster views of the bleak Bighorn Basin below.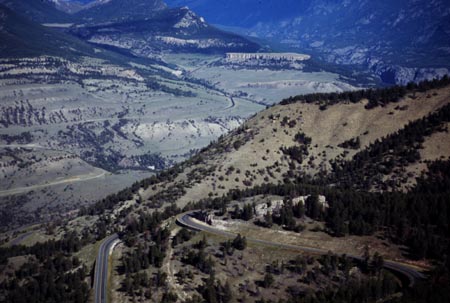 Tours
Dayrides. A ride over Chief Joseph Highway from its junction with the Beartooth Pass road to its junction with Wy120, and back by the same route, measured 68 miles (no altitude data available).
Two or Three Day road Tour. The pass can be cycled in a circle combined with the bigger Beartooth Pass, completing the circle over Wy120 between Cody and Red Lodge. In order to sleep somewhere halfways civilized on a three day tour it is necessary to add on an out and back section to Cody. The other overnight stop is Red Lodge. An additional out and back section to Cooke City or West Yellowstone over Colter Pass is also worthwhile. A two day version of this ride, starting in Silver Gate ( located between Cooke City and West Yellowstone ) and skipping the detour to Cody, measured 112 miles over Colter Pass, Dead Indian Pass and Wy120, 70 miles between the same endpoints over Beartooth Pass and Colter Pass again (no measured altitude data available). It is described further on this page, under the heading "my first Rocky Mountain Pass".