Beartooth Pass
In the western Wyoming mountain ranges, at a safe distance from Yellowstone National Park, it is nearly impossible to find a road that is not worth bicycling. The highest paved pass of this corner of the west, Beartooth Pass, has another advantage. It is not plagued by the traffic of a large adjacent metropolitan area. Other potential crowds, the summer vacation tourists, head straight for Yellowstone. This leaves Beartooth Pass to be enjoyed by cyclists who appreciate a good climbing work out and unparalelled scenery. The pass across the high rolling Beartooth Plateau above treeline is surrounded by the Absaroka, Beartooth and other ranges. Good weather is a prerequisite for this ride. This pass is a personal favorite and a description of a ride in the "touring stories section" is on
this page
, under the heading "my first Rocky Mountain Bicycle Pass"

01.(mile00,5580ft): START-END NORTH: Red Lodge (jct 9th street, Broadway)
02.(mile10+1/2,6690ft) Lake Fork dirt road leaves on right
03.(mile12+1/2,7120ft) FR421 leaves on right
04.(mile27+1/2,10880ft) first summit
05.(mile29,10600ft) intermediate low point
06.(mile31,10940ft) Bear Tooth Pass
07.(mile50,7050ft) START-END SOUTH: jct with Chief Joseph Highway (Dead Indian Pass) on left
08.(mile52,6870f) START-END SOUTH ALTERNATE: low point towards Coulter Pass.
Approaches
From East. The long distance tourist approaching from Billings will notice the shallow slope to Red Lodge. That's where the Beartooth Highway and the pass road begins. After an extended forest climb, passing many camping opportunites (public land as well as National Forest campgrounds), the road turns into a series of ramps climbing the plateau. But this plateau is anything but flat. The road has two summits, and spectacular scenery separting them.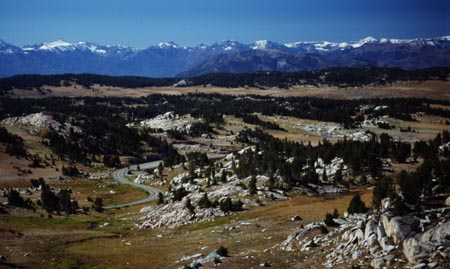 From West. The western approach begins at the junction of three paved passes, Beartooth Pass, Dead Indian Pass and Colter Pass. The character of this side is quite different, drier, more sage and fewer pines, more varied colors and less green. Pilot Peak, keeping watch above Colter Pass is sure to get attention because of its shape from this vantage point.


Tours
Dayrides. An out and back roadride from Red Lodge to the eastern summit measured 53 miles. The measured elevation gain of 6710ft overshoots the real value, either because of a week battery or a passing weather front.
Two or Three Day road Tour. The pass can be cycled in a circle combined with Chief Joseph Highway over Dead Indian Pass, completing the circle over Wy120 between Cody and Red Lodge. In order to sleep somewhere halfways civilized on a three day tour it is necessary to add on an out and back section to Cody. The other overnight stop is Red Lodge. An additional out and back section to Cooke City or West Yellowstone over Colter Pass is also worthwhile. A two day version of this ride, starting in Silver Gate ( located between Cooke City and West Yellowstone ) and skipping the detour to Cody, measured 112 miles over Colter Pass, Dead Indian Pass and Wy120, between Silver Gate and Red Lodge, 70 miles between the same endpoints over Beartooth Pass and Colter Pass again (no measured altitude data available). It is described further in the touring stories section, linked in the first paragraph on this page.

Extended Tour. This pass is also in a prime location for an extended tour, right on the way to Yellowstone and the Tetons. Therefor it is not surprising that I have met long distance tourists every time that I have cycled this pass. It was also a highpoint on my first long distance bicycle tour from New York to California.