Battle Lake Pass
Battle Lake Pass, also called Battle Pass is a surprisingly high crossing point on the Continental Divide in the Sierra Madre of Wyoming. There are lower forestry road crossings on the north side of the pass. This gentle forested range is a continuation of the Park Range in Colorado, and a ride here consists of peaceful solitude in the trees, similar to what one would also get from
Gore Pass
in Colorado for example.

1.(mile00.0,6470ft)START-END WEST: low point on US70, where it crosses Savery Creek, between Savery and Slater
2.(mile15.5,8080ft)Stock Drive Road crosses US70
3.(mile19.4,8430ft)turnoff to overlook point on south side of road
4.(mile21.0,8300ft)turnoff to Sage Creek Rd on left
5.(mile33.1,9955ft)TOP: Battle Lake Pass
6.(mile44.1,7510ft)turnoff to FR443 on left
7.(mile45.6,7280ft)START-END EAST: Encampment

Approaches
From West. Heading east from Baggs, the next sign of civilization is the sign announcing Slater. - Hard to say where the spiritual center of Slater lies. First I wanted to say, right at the sign that says "population 25". The sign looks faded enough, that recent births and deaths may not be be reflected in this running total. But on second thought, I think it lies at the excellent pioneer museum, a block or two to the north. I think that is the real center of town. From there the road still descends into Savery, and this is finally where the profile starts. Slater and Savery are easy to get mixed up. Savery has the post office. Slater has the sign. Neither one has food of any kind for sale.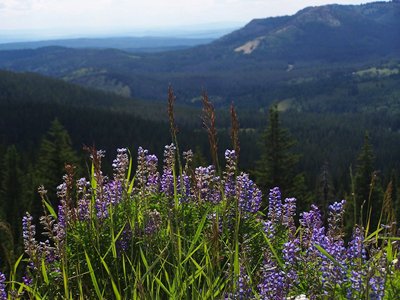 Wy 70 climbs gently toward a trapezoidal mesa, blocking the way. I first thougth this location fit the description of Battle Mountain, after which the pass is named. But the real Battle Mountain is further north along the unpaved Columbine Pass road, which branches to the right in this area.The lake, also named after the same battle, is actually closer to the top.

Wy70 continues to climb a small curving incline, and given the right light conditions, lets you peek over a line of aspen trees onto the ridge of mountains leading up to Hahn's Peak. Grassy, angular Wyoming plateaus are the foreground to what is currently the pine beetle kingdom around Hahn's Peak.

The road enters the Medicine Bow National Forest, and the forest itself too. A sign explaining the crossing of the Savery Stock Driveway is easily missed. In the 1800s, sheep herders used to cross here between summer pastures in the Park Range, stretching up into Colorado, and Wyoming's Red Dessert. Still today there are numerous herding carts on the unpaved back roads, that strongly resemble the rounded metal roof carts from that period. Now and then you also still encounter a herd of sheep.

After a mildly sloping ride through dense forest, a short detour to the right leads to the best overlook on this pass road. It is another version of the same panorama, visible from below. But now Battle Mountain forms the extreme right of the 200 degree field of vision, while on the other side the Mount Zirkel wilderness looks like nothing more than a distant lip of snow around a row of small teeth.

Sofar the entire approach has been part of the Great Divide Bicycle Touring route. Just after the viewpoint, that route turns left onto FR801 to descend on the Deep Creek Road, while Wy70 keeps climbing gently after this dip in the road.

Continuing to Battle Pass there is still lots of climbing to be done. The new road bed uses only large radius curves and slopes of 7 percent or less. This saves the drivers the indignity of shifting. I don't know what good it does for cyclists. Eventually, after many swings through the forest a view point to Battle Lake appears on the right. This is an unusually rugged location for this rather gentle mountain range. From here the top is also in sight. It appears as a treeless meadow in a gentle saddle above.

At the top is a pass sign, calling this location Battle Pass rather than Battle Lake Pass, as Marshall Sprague does in his definitive history of Rocky Mountain Passes. A major attraction of the large parking lot at the top is that it seems to be always deserted, and it has a decent view also. The highest peak in this range can be seen on the right, Bridger Peak with barely a rock outcrop at the top.


From East. (also described upwards). Leaving Encampment, the road heads for the trees. The junction with FR542, which I used to make a loop around Bridger Peak is not signed. But it is located at the start of a chainup area at about 8800ft. Past that the road breaks out of the trees periodically. The tree skeletons left by the pine beetle make a stark foreground in the pictures of this area.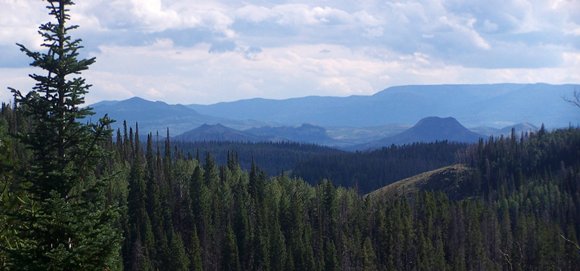 Dayrides with this point as highest summit:
PARTIALLY PAVED / UNPAVED:
Battle Lake Pass x2: Encampment <> Battle Lake Pass <> turnaround point at National Forest Boundary on west side: mechanical odometer (m1:91.7.13)
Notes: this was before the current road bed and included a short section of unpaved road that is now paved.
( < Wy70 Battle Lake Pass Rd(sh) | BLM3328 Miller Creek Road south(sh) > )
Battle Lake Pass , FR543 South Spring Creek s(u) , FR830 Deep Jack Th s(u) , Wy70 Battle Lake Pass Rd - FR801 Deep Creek Rd : jct FR807 Savery Stock Driveway - Wy70 > Wy70 east > Wy70 Battle Lake Pass Rd - FR801 Deep Creek Rd > FR830 Deep Jack Th s(u) > FR452 east > FR452(shp) > FR543 South Spring Creek s(u) > FR543 north > Wy70 west > Battle Lake Pass > back to starting point with short additional out and back down Wy70 for an extra 100ft of elevation gain: 75.1miles with 6940ft of climbing in 7:17hrs (Garmin etrex30 M5:15.7.18)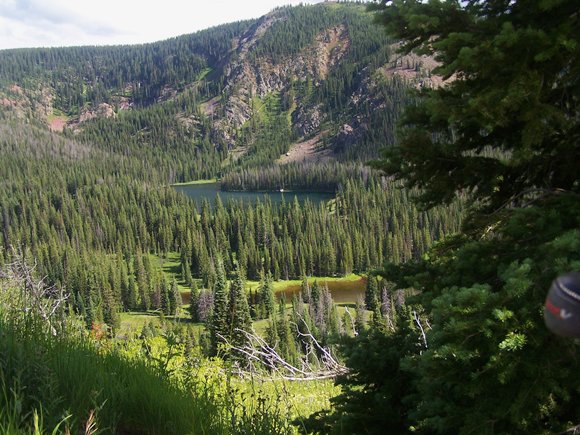 Battle Lake

History
The Fur Trapper Period: This battle happened in 1841, between a group of trappers led by Henry Fraeb and a group of Sioux, Cheyenne and Arapahoe. A sign on the eastern overlook (not the summit overlook) reminds of this event and points out Battle Mountain, where this all happened. The route profiled on the Columbine Pass page actually comes much closer to Battle Mountain itself.
A mining town named "Battle" was founded in 1898. It reached a population of 250 and included a newspaper, two hotels, a general store and a land office.