FR9718 - 9712: Wenatchee Mountains
This is one of many small shoulder summit points on forest roads between US97 and Mission Ridge in the Wenatchee Mountains. It just just happens to be the highest point during my ride over
Old Blewett Pass
.

1.(2470ft,mile00.0)START-END SOUTH-1: jct US97-Liberty Rd
2.(4120ft,mile07.1)TOP: jct FR9718-9712
3.(2850ft,mile14.7)profile turns left back onto US97
4.(2470ft,mile19.2)START-END SOUTH-2: same as point1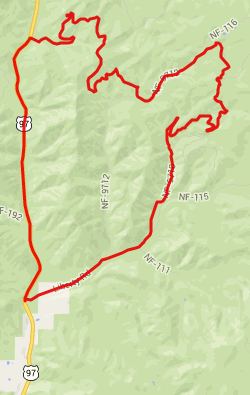 Approaches
From South. FR9712 from US97 is paved as far as Liberty. From there a good lightly graveled road leads to this shoulder summit at the junction with FR9712. Just before reaching the summit the road passes a far view of Mount Rainier. From the junction there is also good view of Manatash Ridge.

From West. A roll through the forest goes back to US97. Rather than following FR9712 back to Liberty, a right onto 9705 makes a larger loop over US97

Dayride

PARTIALLY PAVED / UNPAVED

( < Blewett Pass | FR9712 Table Mountain s(u) > )
FR9718 - 9712(sh) , Old Blewett Pass x2 , FR9705 s(u) : 2.5 miles/500ft up FR97/1115 > down FR97 > US93 south > up FR9718 > Liberty > FR9718 - 9712(sh) > down FR9712 > FR9705 s(u) > US93 north <> out and back over Old Blewett Pass > US93 south > turnaround point: roadside marker for Blewett townsite, about 1.5 miles down US93 after jct >> US93 south > back to starting point: 54.4miles with 6070ft of climbing in 5:04hrs (VDO MC1.0 m5:13.9.7)
Notes: According to my altimeter FR9718 - 9712(sh) was 30 ft higher than Old Blewett Pass, but the latter is a more interesting road to ride - and write about.