-

FR53 Muddy Creek s(u)

This dirt road summit was necessary to make a loop over

Shady Pass

. But it would also make a pleasant ride by itself.




1.(1320ft,mile00.0)START-END WEST: jct Entlat River Rd - Mud Creek Rd
2.(2280ft,mile06.0)profile stays right. FR8410 on right has a connection to Slide Mtn
3.(2850ft,mile07.7)TOP
4.(1400ft,mile11.0)profile turns left onto paved Wa471
5.(1200ft,mile15.6)START-END EAST: low point on South Lakeshore Dr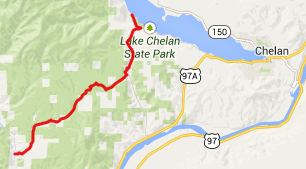 Approaches
From North. The turnoff from Entiat River Road onto Mud Creek Road is clearly signed. If coming down from Shady Pass, once you reach Ardenvoir the turnoff has been missed.

The first tight twists and turns up a matchstick forest canyon are paved. Then the road continues to climb gently on dirt. A number of intersections, that allow connecting with other roads up to Slide Mountain are signed. The profile just stays on FR53. On top there are numerous meanders that keep the slope manageable, even after a long day of climbing, and you just want to get back to the starting point. The top is in open prairie country.

From South. (described downwards) The road surface seems quite a bit rougher and more graveled on this side. But maybe I just was going faster because I really wanted to avoid riding in the dark. Early during the descent, two dirt roads merge from the right. The last part is fast traverse paralleling Wa971. FR53 meets Wa971 south and roughly 400ft below its summit.

A Dayride with FR53 Mud Creek as intermediate summit is on page : Junior Point s(u) , Shady Pass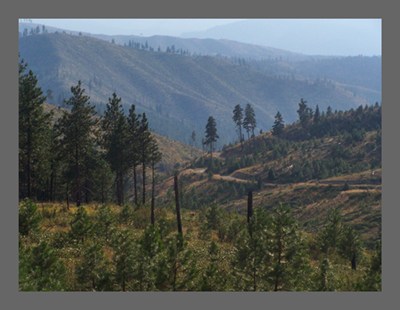 -