Snow Canyon - Ut18(sh)

This is one of the prime, paved mountain rides in the Saint George area, judging from the number of bicycles I saw along the route, and there is a smooth bike path almost along the entire route.


1.(00.0m,2510ft) START-END SOUTH-1:jct Sun River bike path - Man O War Rd
2.(08.7m,2850ft)profile turns onto I15 frontage rd, which becomes Red Hills Pkwy
3.(14.6m,1320ft)profile turns right onto bike path on west side of Ut18
4.(19.7m,3760ft)jct with Ledges Dr
5.(21.3m,3960ft)jct with short out and back to Snow Canyon overlook
6.(22.2m,4120ft)TOP: jct Ut18 - Snow Canyon Rd
7.(31.1m,3020ft)same intersection as 2, but the west side
8.(35.7m,2560ft) START-END SOUTH-2:route meets Sun River bike path near jct with I15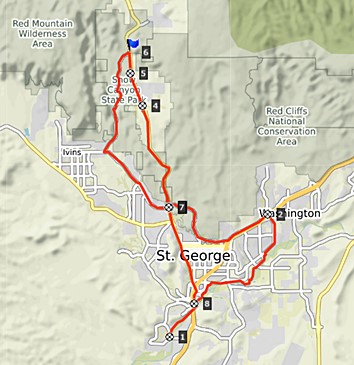 Approaches

From North. In a city of this size there are always innumerable possibilities for the lower part of a climb. This is the way I went, when discovering this route for the first time.

From I15 a meticulously paved bike path follows the super wide Red Hills Parkway out of town, and climbs the bare benches below the Pine Valley Mountains. At the junction with Ut18 the profile takes a right, but it will be coming back to the same point from the west on the way down. The bike path continues uninterupted on the left (south) side of the highway up Ut18. I didn't meet many bikes on this portion. It is a fun path with quite a bit more climbing than the road. When the road gets a road cut, the bike path gets a bike hill, and some are quite steep for a short time. St George spreads out below like a carpet with a modern geometrical pattern, consisting all of the recently constructed retiring developments for the rich. Up here next to the road, there is still dessert, sure to last to next the recession or depression.

Once the road reaches Bench Drive - sounds like another development - but there are only a few spread out houses at this point, the road has come close to its highest point. An overlook over Snow Canyon is a short detour and the nicest view along the loop.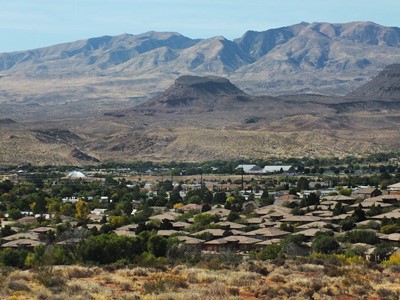 This profile turns down Snow Canyon Road, and this is also the highest point on this loop. Higher points lie ahead on Ut16, but the bike path ends here. You are supposed to pay an entrance fee at the state park entrance for the 3 minute descend through the park. But often times cyclists are assumed to have a yearly pass.






From South. (described downwards). The thousand feet drop through the monument like blocks of rock are the scenic high point of this loop. Another bike path starts, a short distance down from the summit. It continues all the way into New-Suburbia of Irvin and other Saint George parts, back along Snow Canyon Pkwy, arriving at the intersection mentioned in the northern approach. Other possibilities of routes that do not touch at this point are of course possible. To get the most elevation difference out of the profile (which is not that much - feels like more because of much up and down) the route continues along Bluff St to the Sun River bike path





cLiCk on image , arrows , or thumbnails to advance slideshow



Dayride with this point as highest summit:

PARTIALLY PAVED / UNPAVED

( < Utah Hill Summit | Bulldog Pass s(u) > )

Snow Canyon - Ut18(sh) , additional out and back : near black Rock exit on I15 <> out and back on Black Rock Rd east to the mining operation[1] >> I 15 south > Sun River bike path north with detours > about 5.5miles of detours in the Washington (Hills?) development roads in north St George > I15 frontage rd south > Red Hills Pkwy bike path west > Ut18 bike path north > Snow Canyon-Ut18(sh) > Snow Canyon State Park > down Snow Canyon > Ut300 south > Snow Canyon Pkwy bike path east > Bluff St south with sightseeing detours around Main St > I15 south back to starting point: 73.miles with 3630ft of climbing in 6:20hrs (garmin etrex30 m3:19.10.21)
Notes: the only unpaved part is the out and back at the beginning to [1], which is immaterial to the loop over this summit