bold;">



Sardine Summit is a busy highway connecting Cache Valley with the Wasatch Front, by skirting between the Wasatch and Wellsville Ranges. It has grown into a four land highway with a full lane sized shoulder. The shoulder seems like a safe place to be with a bicycle. The summit is named in older National Forest maps.









click on profile for more detail

1.(4510ft,mile00) START-END NORTH: jct Ut101-US89, east of Wellsville
2.(4840ft,mile03) START-END NORTH ALTERNATE: jct US89-paved road from Hyrum
3.(5868ft,mile09) TOP: Sardine Summit
4.(5190ft,mile12) northen turnoff to Mantua
5.(4670ft,mile16) START-END SOUTH ALTERNATE: jct US89-Ut90 to downtown Brigham City. Profile continues along US89
6.(4350ft,mile18) jct US89-US91; profile continues straight to I25
7.(4240ft,mile19) START-END SOUTH: jct I25- Ut91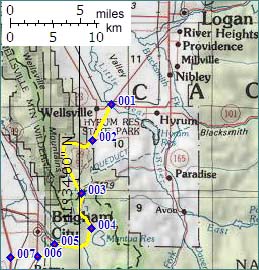 Approaches
From North. The most far reaching view is at the bottom before entering the canyon, a perfect vantage point during late light onto Cache Valley backed by the Bear River Range. You can make out the tabernacle on a prominent bench in front of the mouth of Logan Canyon.

Compared to that, the canyon about to be entered on this ride is lush with vegetation. It hints at an increase in precipitation over the summit. During winter snowfall increases drastically at this point. During the short climb the road only encounters one wide curve to the summit, then a dip through wetlands and over the top. The summit is not signed but coincides with the crossing between Box Elder and Cache counties, which is signed.

Down South. (described downwards) The road passes Mantua with its reservoir and quiet streets. It feels like still a world removed from the suburban growth of Cache Valley. Then a short, straight descent leads into Brigham City. I has one of the nicest old western main streets, that I know.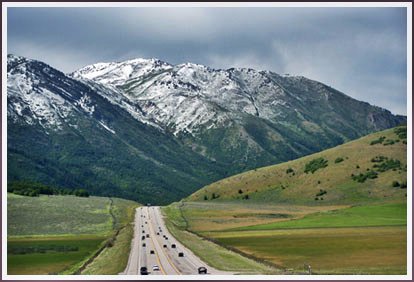 the dip near the top of Sardine Summit


Dayride with this pass as highest summit:

COMPLETELY PAVED:

Sardine Summit , Ut38 Riverside - Petersboro s(u): Mantua > Brigham City > Ut38 Riverside - Petersboro s(u) > North Logan > unspecified detours as part of a sightseening tour of Cache Valley towns between Logan and Hyrum on sideroads > Sardine Summit > back to the starting point. 84 miles, 3800ft of climbing in 6:4 hours (VDO MC1.0 m3:07.06.8).
Notes: this is a loop around the Wellsville Range. Traffic on Ut38 can be pretty bad.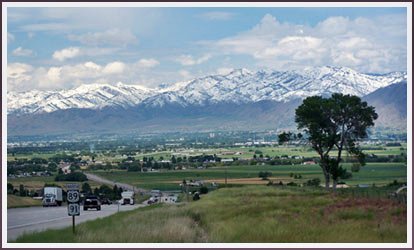 Cache Valley before starting a climb to Sardine Summit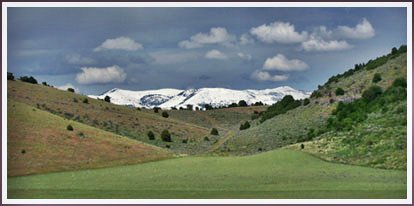 A rare glimpse of the Bear River Range, while cycling up Sardine Summit