Salt Wells Rd s(u)

The Promontory Range is true to its name. It extends like a finger into the Salt Lake. There is surprisingly little public land accessible here. Roads only cross the part of the range that extends north of the lake. This road is a gap in the Promontory Range between Locomotive Springs and Bear River Bay. It is also the highest point on a ride, that also goes over
Promontory Summit
railroad grade.

1.(00.0m,4270ft)START-END EAST:low point on Golden Spike Dr, immediately after turning off Ut83
2.(05.0m,4840ft)profile continues straing on dirt road, turning off Ut83
3.(09.1m,5320ft)TOP
4.(16.6m,4300ft)START-END WEST: road following historic railroad grade diverges on left

Approaches

From East. From Promontory Summit(sh) a dirt road makes a few right angle turns along land boundaries and tops out on an ever so gentle, roof shaped summit in the company of a transmission tower. - Nice far views of the Wasatch Range in the distance with fields in the foreground along the way.

From West. (described downwards) The Great Salt Lake comes into sight at the top, beyond the reach of endless grassy plains and a number of trees that can be counted with fingers - gentle snow covered ranges in crystal clear background. The descend comes in two steps. At the end of the second step the profile for Promontory Summit(sh) starts.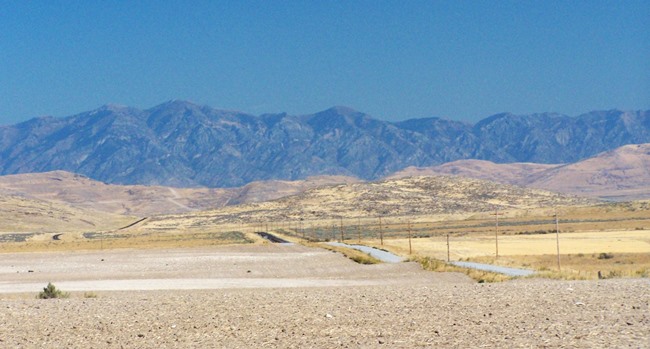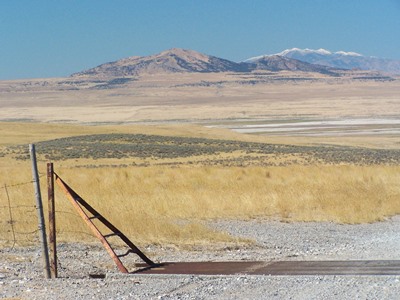 Dayride with this point as highest summit:

PARTIALLY PAVED / UNPAVED:

( < FR538 Oakley - Rogerson Rd s(u) | Promontory Summit(sh) > )

Salt Wells Rd s(u) , Promontory Summit(sh) : near jct BLM Railgrade byway - Salt Wells Rd > BLM Railgrade byway south > West Grade autotour route north > N Golden Spike Loop Rd north > Promontory Summit Visitor Center > Promontory Summit(sh) > East Grade autotour route > Deep Fill Trail > Ut83 south > Lampo Jct > Golden Spike Dr west > East Grade autotour route west > Promontory Summit(shp) > Salt Wells Rd west > Salt Wells Rd s(u) > back to starting point on BLM railgrade byway: 49.0miles with 1950ft of climbing in 4:34hrs (garmin etrex30: m5:17.9.27).