FR042 Strawberry Ridge s(u)

This road is like a continuation of Skyline Drive on the south side of the
Soldier Summit
road, and this is a good reason to expect some pretty phenomenal far views. This road climbs the plateau again from the Soldier Summit road, this time in the form of an initially paved road, stringing together plateau viewpoints onto the Wasatch fault blocks along the way. The road is marked with a pass symbol on old Touraide maps, and therfore I included with the "official summits".


click on profile for more detail
1.(5660ft,mile00) START-END SOUTH: jct US6 -FR101 Ray's Valley Road
2.(7590ft,mile09) profile turns right onto dirt FR042
3.(8630ft,mile15) TOP: FR042 point of highest altitude on Strawberry Ridge
4.(7610ft,mile21) START-END NORTH: Indian Creek crossing on south end of Strawberry Reservoir.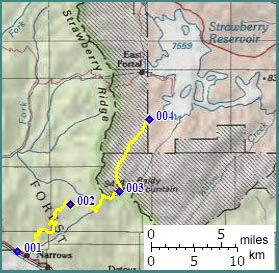 Approaches
From South. The initial climb is paved, and even smoothly paved, not the sort of deteriorating quilt patchwork, applied for centuries over older patchwork paving, that is common in many parts of Utah. The exceptional low traffic makes this a great road cycle too. But as usual, the price for this is having to turn around where the pavement ends.

The paved road continues to the shoulder summit on Ray's Valley Road. With a mountain bike the route to the FR042 summit turns right off the paved road at a parking lot with views of the valley. Often a camper or two are parked here. The best views are yet to come. With each traverse that FR042 climbs, new stretches of previously traversed road become visible below, making up new middle ground in progressively vaster panoramas. The road demonstrates one interesting feature of many Utah landscapes. Climbing a forested plateau, you often find yourself at eyelevel, or even higher as sculpted alpine peaks across the valley. In this case it is the southern part of the Wasatch Range including Mount Nebo (11877ft) and Mount Santaquin (10685).

Eventually the road winds around knolls of aspen groves. FR043 (not the FR043 described here) diverts to the right near the top, reaching a higher altitude on yet another unrecognized summit.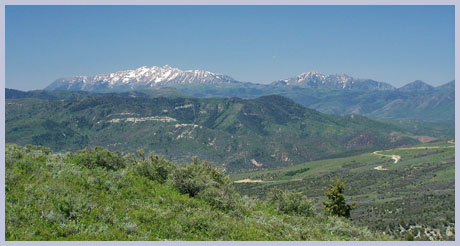 From North. (described downwards). At the summit the surface becomes more oriented towards heavy automobile traffic, even if the traffic doesn't exist. The surface incorporates angular stones with 1/2 to 1 inch diameter, not exactly meant to attract bicycle traffic, to put it mildly. The descend is lke a straight runway ramp, flanked by aspen forest, which gives way to grassland, eventually flowing into the spider like shoreline of Strawberry Reservoir. What a change in scenery ! The road around the reservoir is paved.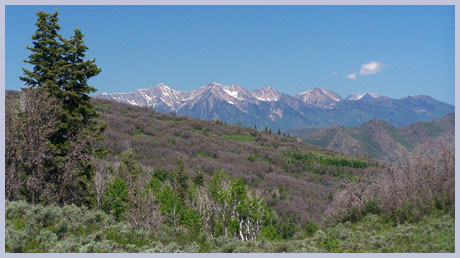 A Dayride with this point as intermediate summit is on page: FR131 Trail Rider Summit