-
Lolo Pass
Four roads meet on top of Lolo Pass. This page profiles the most obvious and direct of the two approaches. One is paved, the other one is rough gravel. There is also another paved approach to the top. Both paved approaches come from the south and are on the
FR1828 Lolo Pass s(u)
page.

1.(1450ft,mile00.0)START-END SOUTH-1: jct US26 - East Lolo Pass Rd
2.(1990ft,mile04.2)profile stays left at fork with Muddy Fork Rd
3.(3460ft,mile10.5)TOP: Lolo Pass
4.(2300ft,mile17.1)START-END NORTH ALT: jct with FR16 Vista Ridge Road on right
5.(1240ft,mile23.7)jct with Lost Lake Rd on right
6.(990ft,mile29.3)START-END NORTH: jct Green Point Rd - Or281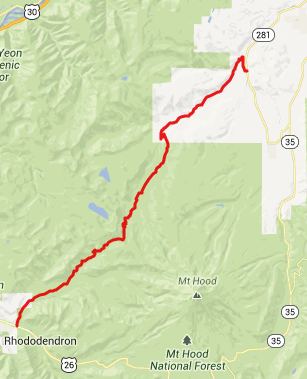 Approaches
From North. The ride up East Lolo Pass road is first of all a great escape form US26 traffic. And the scenery is nice too. The first few miles lead through homes, I suspect they are fairly high income homes, but they are discreetly hidden in thick forest. After passing the tunoff to the Lost Creek area ( a whole collection of camping areas and trailheads) the road traverses up a ridge facing the south side of Mount Hood. Too bad all these huge powerlines get in the way of the views. Actually the road follows a large clearcut made for these powerlines, and without these clearcuts, you might never see Mount Hood from the road. On a final part of the climb to Lolo Pass, low hills get in the way of views. FR10 branching off to the left is barricaded. On top of the pass there is only one way to continue on pavement. That option is profiled on the FR1828 Lolo Pass s(u) page.

From South. Instead this profile takes the most obvious way down the north side, on a very rough dirt road, following the power lines. Thanks to the clear cuts the views of Mount Hood are only obscured by geometrical patterns of sagging lines, instead of being completely invisible, because of being obscured by trees. This rough section is very short, and pavement picks up again after the road crosses Red Hill Creek on a rickety bridge. My own route went back uphill at the junction with FR16, but the profile continues north on FR18 to Dee.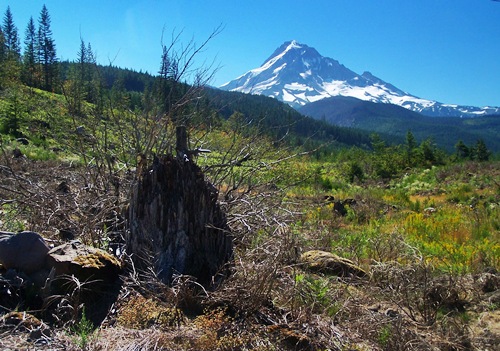 I have been told that the other unpaved road at the top (signed as Lost Creek Road) makes for a smoother descend on this side and joins the described southern approach near the Red Hill Creek Bridge.




A Dayride with this point as intermediate summit is on page: Timberline Lodge: Mount Hood s(u)


top left: every once in a while: great views above the cut timber
bottom left: rickety bridge on south side
bottom right: ther power line scenery of Lolo Pass






-