Wheeler Peak Scenic Dr(ow)

I underestimate the number of climbs I underestimate. So here is another one in that category. One way to rationalize the misunderestimation (just to keep an old Bushism alive) of this particular summit, goes something like this. ... Before this, I had been traveling through nearby parts of Nevada south of here, and really enjoyed those big "2000ft" climbs. So this one reaches just a little bit higher. But even at equal elevations, this range is much colder than those other ranges I had hiked and biked. Mt Wheeler itself is said to have a real glacier, though it may just be an icefield that stays around the entire year (ie no ice, deforming under its own weight,which is the real definition of a glacier).

In any case, this is Nevada's premier one way road climb. During a day in November I saw about a dozen or so cars along the entire route, and the views reached further than I imagined views could reach.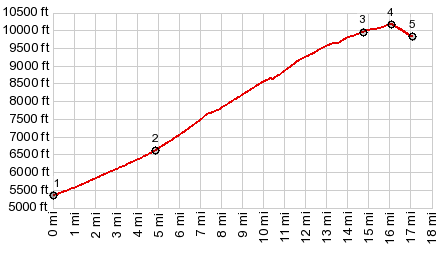 1.(00.0m,5350ft) START-END EAST: jct Lehman Caves Rd - Nv487, Baker
2.(04.8m,6610ft) profile turns right onto Wheeler Peak Scenic Drive
3.(14.8m,9960ft) Peak View Point
4.(16.0m,10160ft) TOP: Summit Trail Parking Lot
5.(17.1m,9820ft) end of road in Wheeler Peak Campground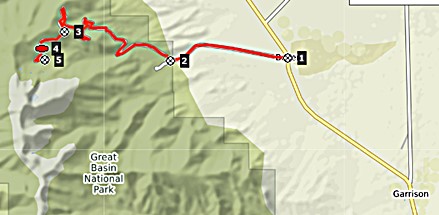 Approaches

From South. Baker is not your normal National Park border town. This town gives confidence that the National Park System is working somehow. There are no go cart races or Minigolf businesses. Actually even the grocery was closed. But the one unattended gas station was open for credit card purchases.

There are no fee booths at the entrance of this National Park. Just climbing the alluvial fan out of Baker, before entering the national park, gains about 1000ft in elevation. Going down this section the visual clues sent to the brain are, that you are riding along on a regular plain. It is easy and freaky to make believe the bike is being pulled to accelerate by some not understood force in the universe, like the force that is causing the accelerating expansion of the universe.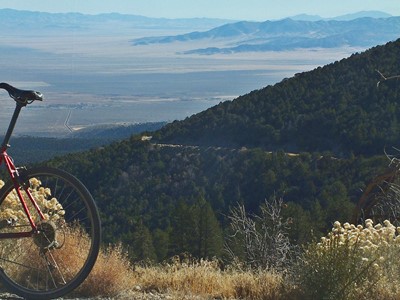 Back to reality - first we need to ride to the top. All the points in the landscape by which to measure one's own progress are quite far away. So the visual clues are limited. On the lower section there are some great views of 12 thousand foot Mount Moriah to the north. After that the road actually goes through a sparse forest. At 9 thousand ft elevation a section of the road in dark, deep shade has ice on this November day, even if the rest of the road further up is much warmer. I was beginning to think there was something wrong with my hub, when I saw the tires actually spin on the road. It felt much too warm for ice on the road.


There is only one view point of Mt Wheeler itself, and during all of the day, except the early morning, the light is from the front, making it appear completely flat. There is one other unpaved road to a viewpoint that I did not take.


The summit is in the trees and without views. A foot trail to Mt Wheeler leaves from here. The road continues in dense forest and drops about 300ft to another campground and trailhead. Since that is less than 500ft I am counting this as a one way summit.





cLiCk on image , arrows , or thumbnails to advance slideshow


Dayride with this point as highest one-way summit and without two-way summits:

( < Patterson Pass | Skull Rock Pass > )

Wheeler Peak Scenic Dr(ow) : Baker Archeological Area > Nv487 west > Baker > up Nv488 > Mt Wheeler Scenic Dr(ow) << turaround at end of road, lowest point in campground area > Baker <> out and back on Nv487 towards Garrison with turnaround point after ~2.5miles one way >> back to starting point:44.1miles with 5480ft of climbing in 4:58hrs (garmin etrex30 r4:19.11.11)
Notes: broke a spoke after the climb. Otherwise ride would have been longer