NM244 summit(u): Cloudcraft area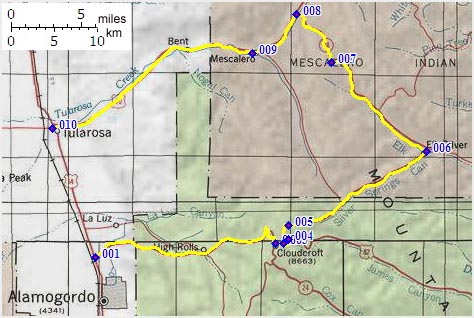 For somebody who likes to explore the neighborhood on a bicycle, the desert around Alamogordo has something in common with coastal California. But the similarity is pretty abstract. Cycling on the California coast you can head in three directions only, but not west, obviously. The same thing is true for Alamagordo. But it's not an ocean that puts the area off limits to bicycle wheels. Instead it's a giant military reservation, where the military practices exploding bombs and other things in the previously pristine landscape. The first nuclear ( or as republicans like to call it nucular ) bomb was also detonated a few dozen miles to the north, making the area especially interesting for cancer research. A busy traffic corridor runs along the boundary to the military area.
To the east, like in coastal California, there are the mountains, even with a California name, the Sacramento Range. The most satisfying one day loop in this area runs over the highest paved road in these mountains. While riding on top of the Sacramento Range over this route, there is no visible clue that you are running along a mighty ridge above the dessert. The traverses is in a tiny valley that could be located much lower, and thousands of miles to the north, judging from the scenery


01.(4470ft,mile00) START-END SOUTH: jctUS70-US82, south of Alamogordo
02.(8650ft,mile16) NM244 to Sunspot takes off on right
03.(8680ft,mile17) US82 shoulder summit: Zenith Park area in Cloudcroft
04.(8570ft,mile18) profile turns left onto NM244
05.(8990ft,mile20) TOP: highest point on NM244, just short of turnoff to Silver/Saddle/Apache campgrounds
06.(7150ft,mile32) Elk Siver, UN244 turns left up Elk Canyon
07.(8200ft,mile42) intermediate summit
08.(7800ft,mile47) turn left down Tulorosa Canyon on US70
09.(6560ft,mile52) town of Mescalero
10.(4510ft,mile69) START-END NORTH: jct: US70-US54 in Tulorosa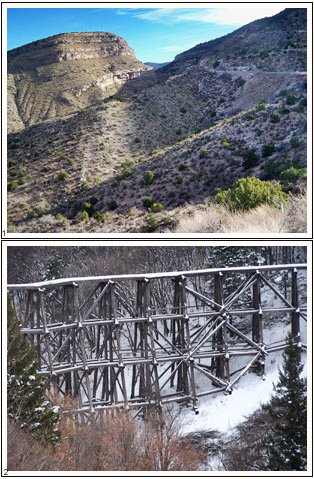 Approaches
From North. The profile starts in Alamogordo. The route follows the NM 82 shoulder summit to Cloudcraft. The tourist town has an especially for tourists constructed boardwalk with Texas Barbeque and other y'all-wellcome-businesses. The shoulder summit crests and NM244 turns off to the left to climb further in a dense needle forest on a pleasant "damn-crooked" (as one Clouldcrafter described it to me ) road. The road crests at a series of forest campgrounds.

From South. (described downward): The next expanded downhill lends itself to trying out just how fast one can pedal downhill, gentle grade, few turns, pleasant shallow forest valley. But there is another gentle climb ahead inside the Mescalero reservation up Elk Canyon. The second, lower summit's most remarkable feature is a downhill sign in close proximity on both sides, which is not very remarkable. The road terminates on busy US70 to Apache Summit. Turning downhill the gentle busy four lane highway is signed as a bicycle route. It has a lane wide shoulder separated from traffic by a rumble strip, and while traversing the Apache reservation it has more glass on it than a discount liquor super market has in it, only that here it's broken up in little tiny pieces. Lanes in traffic contain considerably less glass, and riding on the road instead of the shoulder is feasible since traffic tends to be light. Traversing the town of Mescalero, the most interesting view along the entire route may well be a mighty church edifice on the reservation (picture included). Continuing down Tulurosa Canyon is again a pedal-as-fast-as-you-can downhill affair. Canyon is a misnomer, even valley doesn't really describe it. I would call it a slanted plain.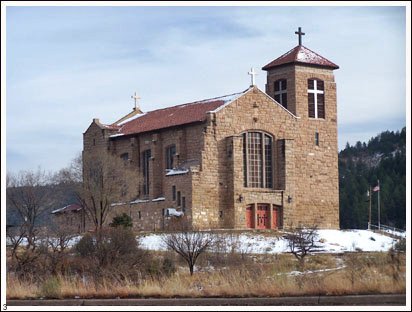 Tours

Dayrides.

(paved): A loop ride from the south end of Alamagordo to Cloudcraft over the NM244 summit, back through Mescalero and Tulorosa measeured 88 miles with 5600ft of climbing in 6:3 hours, using a VDO MC1.0 cyclecomputer. The loop can be shortened by about 10 miles by starting a short distance north of Alamagordo. (r2:7.11.26)

Pictures: Pic 3 taken on the Apache summit side, all others taken on the southern approach and are equally applicable to the US82 shoulder summit: Cloudcroft, and the NM130 shoulder summit: Clouldcroft.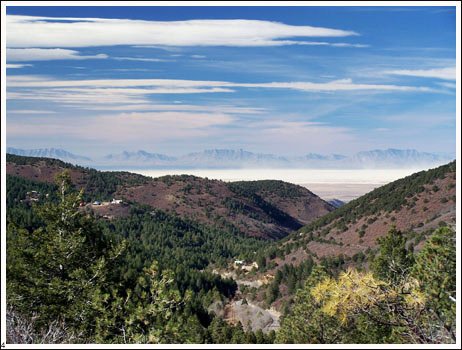 back to New Mexico's Summits and Passes by Bicycle