Flesher Pass

This is a pleasant gentle pass through lovely country. The road has no shoulder, and is rumble stripped only at the center. But traffic on my two occasions of crossing this pass has been so light and considerate. The view from approaching the summit direction Stanley is definitely memorable, because it overlooks such a wide swath of wild country, traversed only by a single road, determined to get to the summit you are standing on.


01.(00.0m,4690ft) START-END EAST: jct Stemple Pass Rd - Mo279
02.(08.3m,6129ft) TOP: Flesher Pass
03.(16.7m,4990ft) profile turns left onto Mo200
04.(26.4m,4560ft) START-END WEST: Lincoln: jct Stemple Pass Road - Mo200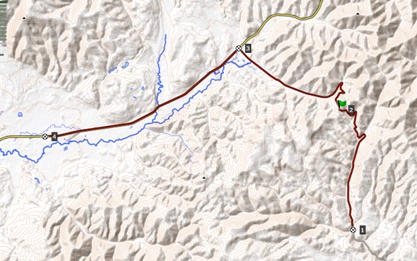 Approaches
From West. Turning from Mt200 onto CR?279, the road is flanked by gentle hills, verging on being worthy of the designation "mountain". After several miles of pleasant cycling through with very little traffic, a road cut high up on the ridge ahead becomes visible. It is this view that makes this seem like a real mountain pass.

The long detour, shaped like a sling to the north, used to get to this road cut is not immediately visible. And so the climb, all in all, remains gentle and civilized, and a nice view is to be had of the mountains. The view reaches back into a vast swath of landscape, that has been declared off limits to most forms of human transport, including bicycles, eventually reaching back into the Bob Marshall Wilderness. Here the scenery is reserved for bears and large game, and the occasional helicopter tourist.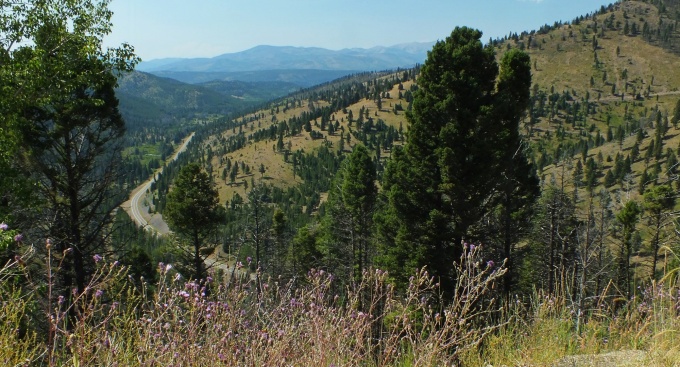 From East. (described downwards). The Continental Divide Trail crosses at the top, and this time finding it is not a problem. Signs clearly point the way in both directions. The downhill on this side goes through widely spaced vacation homes. There are no far views to speak of.

A Dayride with this point as highest summit is on page: Stemple Pass