FR307 Centerville Rd s(u)

This busy dirt road summit connects paved roads in Idaho City with Placerville and New Centerville. It makes a number of loop rides over higher paved and unpaved summits possible.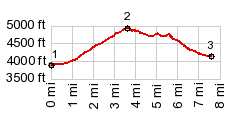 1.(00.0m,3900ft)START-END EAST:jct FR307 - Id21 Idaho City
2.(03.6m,4930ft)TOP
3.(07.6m,3990ft)START-END WEST: low point where FR307 crosses Crimes Creek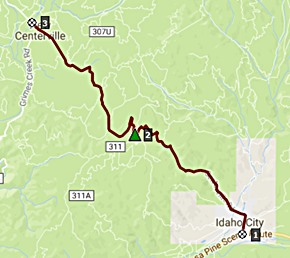 Approaches

From East. The profile starts in the old historic mining town, Idaho City - picture below. The pavement soon turns to thick sandy washboard on a wide road in the forest. The surface improves with a little climbing.

From West. (described downwards) - quick, slightly sandy descend to New Centerville in the woods. From there on the road is paved,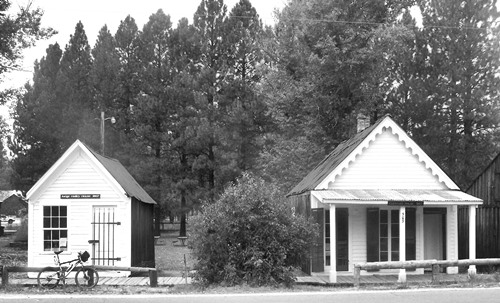 Dayride with this point as highest summit:

( < Adape Summit | Mores Creek Summit > )
FR307 Centerville Rd s(u) : about 2 miles up FR364 Grimes Creek Rd > Grimes Creek Rd north <> out and back at a confusing intersection > New Centerville with a sightseeing detour > FR307 Centerville s(u) > Idaho Springs <> Id21 south > Grimes Creek Rd north back to starting point: 40.0miles with 2110ft of climbing in 3:54 hrs (garmin etrex30: 17.9.15)

A Dayride with this point as intermediate summit is on page: Mores Creek Summit