Vrsno summit(u)


This is not a big pass but a very pleasant afternoon ride between the friendly towns of Kobarid and Tolmin in Slovenia. It parallels the main road in the valley below, leading through closely spaced small villages along the way and carries little traffic - best of all, virtually no motor cycle caravan traffic, just a few local mopeds. A steep out and back climb can be added from the highest point, leading to a trailhead town above treeline below the peak Krn.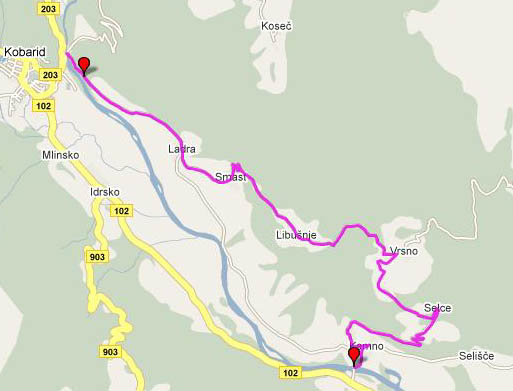 Approaches
From West. You head out of town on the main road towards Tolmin. Go left crossing the bridge towards Dreznica, but then turn right after the bridge. This pleasant road goes to the town of Smast. Staying left for Krn and Vrsno starts a steep climb towards an ideally located church in Libusnje overlooking the valley. It makes a great quiet lunch stop if you got a late morning start. Leaving Libusnje the switchbacks start continuing to Vrsno. Here an out and back climb to the town Krn at 887m is a scenic extension.

From East. (described downwards). Right before the town of Vrsno, a sign points to a right fork on an initially very narrow road back down to Tolmin. The initial steep sections give way to deeply forested parts with intermediate views of the mountains. The profile reaches a low point as it approaches route102, but continuing to traverse slightly above the valley through Slisce to Tolmin is the logical destination for a half day loop.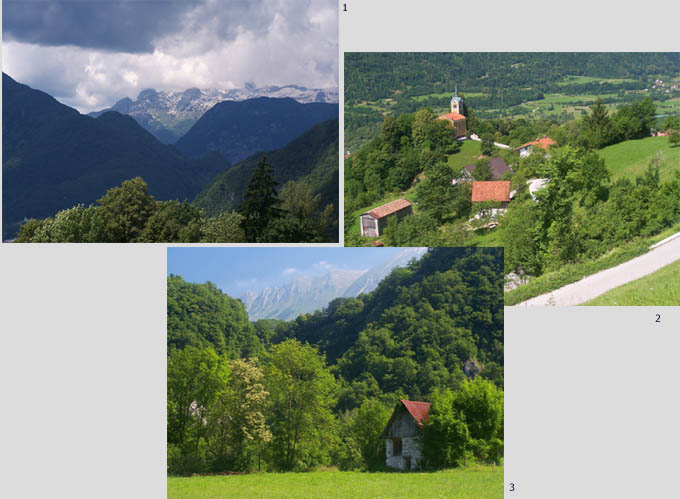 pictures: 3: between Kobarid and Ladra, 2: church just below the paved one way climb to village of Krn, 3: telephoto shot taken from church in 2.
Dayride:

Vrsno s(u):
Kobarid area > Vrsno s(u) <> turnaround point Tolmin > valley route back to Kobarid: 37 miles with 2500ft of climbing in 3:3 hours (VDO MC1.0 m3:9.6.14)..
Notes: includes about 7 miles of sightseeing detours in Tolmin and other places along the way


The next day on this
Extended Tour
, starting at the same point, Kobarid area, is on page:
Vrsic Pass
Vrsno summit(u)

Highest Point: 590m

Western Approach:
climb

over distance

from bridge west of Kobarid (217m)

373m

6.8km

from Ladra (210m)

380m

4.3km

Eastern Approach:




from bridge near Kamno (200m)

390m

4.5km







back to Cycling Passes in Europe